BMD interpretation mistakes - case 4
---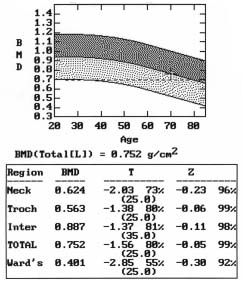 This 70 year old patient had spinal stenosis. The orthopedic surgeon wanted to know if she had osteoporosis before proceding with back surgery.
IMPRESSION:
1. Osteopenia of the left hip, placing this patient at moderate risk for an osteoporotic related fracture.
This interpretation is not actually a mistake, but I would have expressed the results differently.
Updated 8/8/05
---