Bone density and Fracture Risk (more details)
| | | |
| --- | --- | --- |
| Hip fracture risk vs age, according to z-score | women | men |
| Hip fracture risk vs age, according to t-score | women | men |
| Hip fracture risk vs BMD according to age | Femoral neck | Total hip |
The following graphs are from the Study of Osteoporotic Fractures. Note that they reported the 5-year risk of fractures, whereas the meta-analysis reported 10-year risk. Because the women in SOF had serial xrays of the spine, the vertebral fracture rate could be reported. (Cummings) JAMA 2002; 288:1889-97
A comparison of the MrOs study and the SOF study suggested that the risk of fractures was higher for women with the same BMD of the total hip. This is different from the meta-analysis shown above. It is not yet clear if the difference was due to methods of measurement, types of fractures, or population differences. This figure is from the abstract presented by Cummings: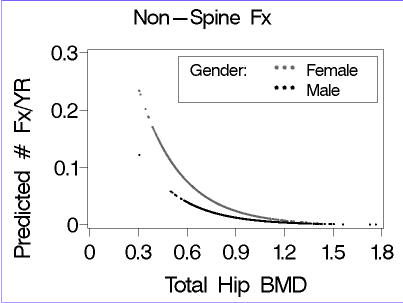 Reproduced from J Bone Miner Res 2004;19S1:S89 with permission of the American Society for Bone and Mineral Research

Click here to take a difficult QUIZ about this page!
Updated 7/13/07
---