Ethnic differences in bone metabolism
This is a page in progress.
Ethnic differences are very important! For example, black people have only half as many fractures as white people.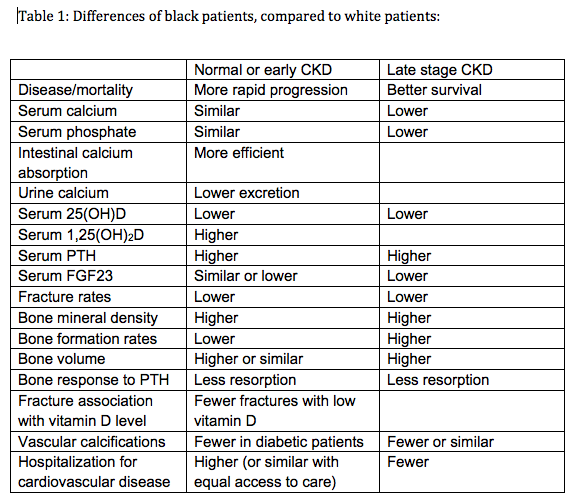 Vitamin D
New studies have shown that the TOTAL vitamin D levels are low in black people but the FREE levels are normal. This is because there are differences in the D-binding protein (DBP) which has genetic variability. Black people, therefore, may not bind vitamin D as tightly and so more of the hormone is available. This is similar to thyroid hormone which is carried by thyroid binding globulin. However, the measurement of the D-binding protein is difficult and not all investigations have the same results.
Cauley JA reported an analysis from the Women's Health Initiative that found a higher risk of fracture in Black women whose serum vitamin D level was higher than 17 ng/ml. This is very different from White women who had a higher risk of fracture with low vitamin D. This suggests that recommendations for vitamin D should be different in White and Black women. Black women with vitamin D between 20 and 30 ng/ml had 48% more fractures than those with levels below 20.
Updated 2/25/2016
---