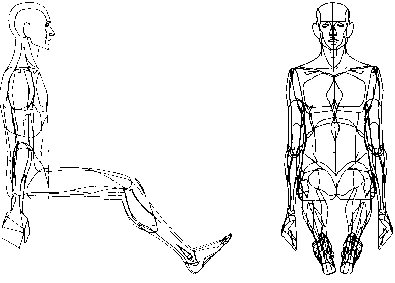 Seattle >
William Fetter (1928-2002), an art director who worked for Boeing, was a computer graphics pioneer and the first to draw the human figure using a computer (above). He was invited to attend a meeting in 1965 at the Murray Hill, N.J. offices of Bell Telephone Laboratories (now Lucent Technologies). As he remembers it, "this small group was the entire population doing any form of computer graphics then and I was the only one with an art background and an art degree. Surprisingly, I was still the only one of this group doing perspective images. Some present were Ken Knowlton and Ed Zajac of Bell Laboratories, George Michaels and Bob Crowley of Lawrence Livermore National Laboratories, myself from Boeing and others. E.A.T. was first described to me during a meeting in New York at a conference and I felt the rich mix of art and technology interactions already in progress in the Northwest might benefit by tying in with that group. I contacted Dr. Kluver, obtained a film about their show at the Armory in New York, and called a meeting of like-minded people [in Seattle]."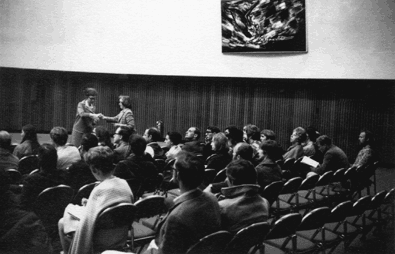 The Northwest chapters of E.A.T. were founded in 1968 in Seattle and Portland. The first meeting was held at the Seattle Science Center on June 29, 1968, and was attended by 65 Oregon and Washington artists and technologists (above). It was organized and run by William Fetter and LaMar Harrington, with Doris Chase, Robert Brown, Jack Eyerly, and Don Paulson in attendance. A film of "9 Evenings: Theatre and Engineering" made by Alfons Schilling was shown that documented the performances. Two films made by local artists also were screened: Sorcerer's Apprentice by William Fetter and Hans Graf, and Horses by Robert Brown and Frank Olvey (later titled The Tempest).

LaMar Harrington was Associate Director of the Henry Art Gallery on the University of Washington campus. She first heard about E.A.T. from artists who presented a photo show about Allan Kaprow's Happenings at the gallery. After establishing the E.A.T. chapter, she presented individual and group art shows at the Henry Gallery and Bellevue Arts and Crafts Fair that featured artists using new technologies. They included the "Art and Machines: Motion Light Sound" show in August, 1969 that featured new works by Hans Haacke, Doris Chase, Larry Hansen, and others. She also presented films by Stan Van Der Beek and Michael Snow (with live music by Philip Glass) and multi-artist gallery and site installations. These included live music and outdoor happenings by Steve Soreff, who choreographed earthmovers that were excavating the University of Washington's Red Square and the underground parking garage near the gallery.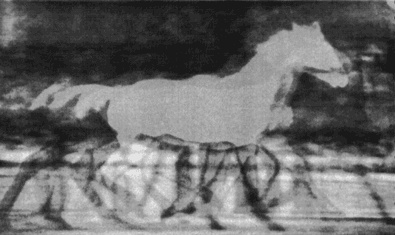 Film still from The Tempest

Robert Brown and Frank Olvey were active in the Seattle and Portland E.A.T. communities. Their experimental film The Tempest received awards from the Bellevue and Ann Arbor Film Festivals, was seen internationally on television, distributed worldwide by the U.S. Information Agency, and is in the collection of the Museum of Modern Art in New York. In 1968 Brown and Olvey won the first competitive State's grant of $10,000 from the National Endowment for the Arts to "advance the art of filmmaking in the Northwest," where they screened their films and discussed their color film techniques in workshops throughout Washington and Oregon. In 1969 they produced film sets for Turandot with the Seattle Opera, and Cassandra for Seattle's New Dimensions in Music program, which was also shown at the Composer's Forum in New York City in 1970. Other intermedia projects include Rooking for the Center for New Performing Arts, University in Iowa, and America for the Seattle Symphony. In 1974 their program was included in Stan Van Der Beek's series "The Future of the Image" at the University of Florida, Tampa.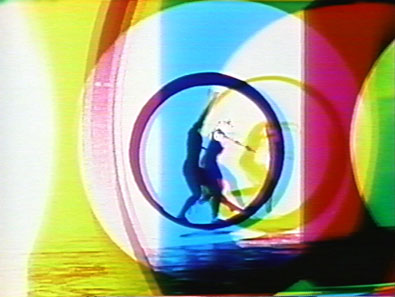 Film still from Circles II
Seattle painter and sculptor Doris Chase began collaborating with dancers, musicians, and filmmakers after the first E.A.T meetings. She made many new works, including a dance sculpture for a Seattle opera for children (Mantra) and a computer-drawn series of circles that was transferred to film and colorized by Seattle filmmakers Robert Brown and Frank Olvey, and set to music by Morton Subotnick. To create Circles, William Fetter arranged for Chase to use the computer graphics software/hardware system he had been developing at the Boeing Company. Circles was an artistic application of computer graphics programming accomplished with the assistance of Robert Tingley, who worked with Fetter at Boeing.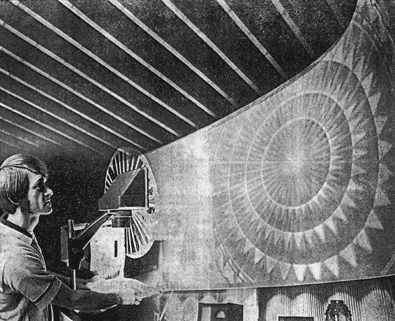 Don Paulson

Northwest E.A.T. artist Don Paulson, a Seattle painter, moved to New York City in the mid-1960's where he hung out at Andy Warhol's Factory and attended the Velvet Underground's first public performance in 1966. Paulson returned to Seattle and in January 1967 founded and organized a group who performed the Lux Sit and Dance lightshow in Seattle. Lux Sit ["Let there be light"] is a motto on the University of Washington seal. This lightshow collective performed in venues as diverse as the Seattle Opera House (for the Joffrey Ballet), the Washington Athletic Club, and the Science Center. They worked with some of the biggest bands of the day, including Jefferson Airplane, the Byrds, and the Grateful Dead. Paulson is also an historian and has co-authored a book about early Seattle gay culture, An Evening at the Garden of Allah: A Gay Cabaret in Seattle (1996)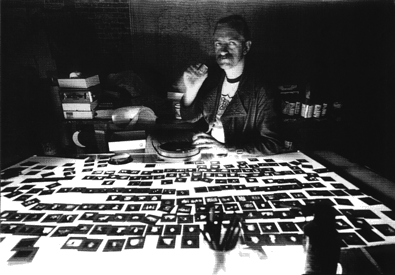 Gary Ewing

Portland >
After the first meeting of the E.A.T. chapter in Seattle, Jack Eyerly organized a similar meeting in Portland the next day (June 30, 1968) at Patton Park. Eyerly was part of a family that invented and built airplanes and amusement park rides. He had recently visited Vancouver, Canada, where there was a new group of artists and technologists forming called Intermedia, which was also based on the principles of E.A.T. The Portland E.A.T. group was smaller, not supported by an art institution, and was held together by Eyerly's extraordinary networking, organizing and writing skills. He wrote newsletters, organized public art events, and helped connect artists with resources and people. One of the artists to participate in the Portland group was Gary Ewing, who began performing lightshows in San Francisco's Avalon Ballroom in 1965. He then moved back to his hometown in Portland. In addition to performing lightshows, Ewing continues to work as a multi-talented artist who designs posters and creates inflatable sculpture and other works of art