A Typical Model Rocket

-
The following picture shows the parts that go into a typical model rocket.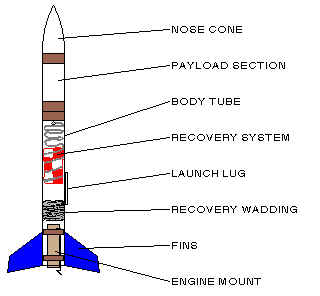 NOSE CONE
Usually made of balsa wood or plastic, helps to direct airflow smoothly around rocket.
PAYLOAD SECTION
Area for electronics, cameras, eggs, or any other load allowed by the safety code.
BODY TUBE
Usually made of paper/ plastic or any other crushable material, it's the basic airframe to which all other parts are attached.
RECOVERY SYSTEM
A parachute, streamer or any other device or system that will safely return the model.
LAUNCH LUG
Small tube that fits over a rod to help keep the model stable during the first few feet of flight.
RECOVERY WADDING
Keeps hot ejection gasses from damaging the recovery system.
FINS
Usually made of balsa wood or plastic, and located at the rear of the rocket, fins are what keep a model rocket flying straight up.
ENGINE MOUNT
Holds the engine securely.