Scar
---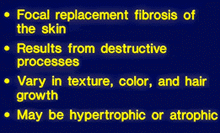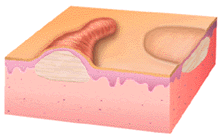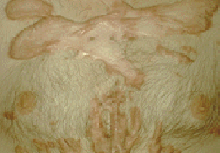 This patient has large rock hard and tender reddish-brown linear tumors on the anterior chest wall. Note how the tumors are heaped up at the periphery, suggesting that this is an advancing border. These tumors, called keloids, occur in response to trauma or inflammation, such as acne, or spontaneously. They have the consistency and composition of scars, but unlike scars, grow beyond the border of the injury that incited them.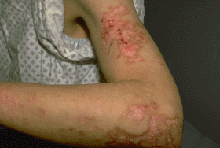 This patient has atrophic depigmented scars surrounded by a hyperpigmented border. These discoid lesions are so distinctive, especially if accompanied by the presence of tiny keratin plugs in the hair follicle openings, that the diagnosis of chronic discoid lupus erythematosus can be made with confidence.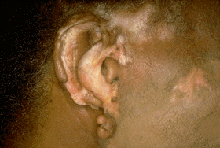 This patient also had chronic discoid lupus erythematosus. She has had a destructive scarring process which has resulted in for formation of a thin depigmented and featureless epidermis. Note the areas of alopecia in the scalp. The location of these lesions on the face and their remarkable destructiveness are typical of discoid lupus erythematosus. The scarring and atrophy distinguish this condition from macular vitiligo.
---