Sea Otters: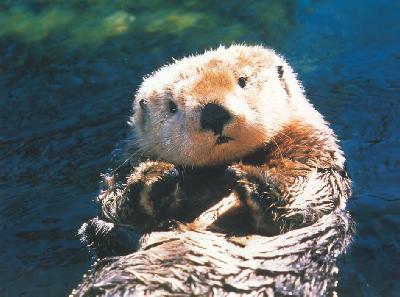 Sea otters have long been hunted for their luxurious pelts. The dense soft fur has been highly coveted for hundreds of years. They were nearly hunted to extinction in the 1800's and 1900's. Sea otters, like other marine mammals, give live birth to few young, thus making population recovery a slow and arduous process (Nowak 2003). Aside from the threat of hunting, sea otters are especially susceptible to oil spills. Unlike other marine mammals, sea otters do not have blubber, thus their watertight fur is responsible for thermo-regulation. Oil spills reduce the otters' capacity to stay warm. Death from hypothermia is extremely common in otter populations immediately after oil spills. Today, little is known about the abundance of sea otters, or the effects of conservation efforts. (Nowak 2003).
(photo: www.turtletrack.org)

static.flickr.com/
Sea Otters in the Puget Sound: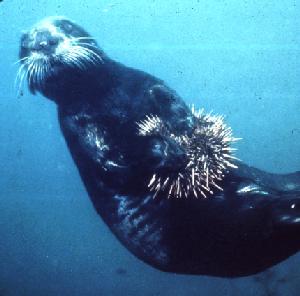 www.absc.usgs.gov
Sea Otters play an important ecological role in marine ecosystems. They feed on urchins, thus preventing the overgrazing of kelp forests (Nowak 2003).
Their fur is densely packed, nearly 1,000,000 hairs per square inch, and covered with oil creating a warm pocket of air between the body and water (Nowak 2003).
Their front claws are retractable, allowing the otter to open shells (ie. mussels, abalone, clams, urchin tests, crabs, chitin etc.) (Nowak 2003).
A highly developed eye allows the sea otter to focus and see clearly under water, unlike most other marine mammals (Nowak 2003).
Sea otters are taught to feed by their mothers. Maternal food preferences can be traced through lineages; some mothers prefer crustaceans and cephalopods, while others prefer echinoderms and bivalves, some even prefer gulls (Nowak 2003).