For the last week and some change, I have been quite secluded from the majority of the other inhabitants of the R/V Thompson. My lab is through three doors down a hall and to the right from the main labs. And I have had A LOT of water to analyze. Collecting water samples about every 3-6 hours for days on end, then taking over 3 hours to analyze all the samples… I have read a few books. Sometimes when there is more time between stations, I spend some time on the deck, taking photos, soaking in some vitamin D.
Sleep has been… challenging. As you can see in this photo, I have cough drops, tea, and in my pocket I have some decongestants. Lack of sleep and a climate adjustment have not been good to me. Some days, I have only been able to sleep for a couple 1-2 hour naps. Naps are the only thing keeping me going at this point.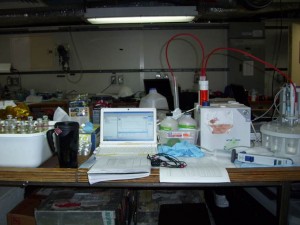 If there's anyone out there reading this who doesn't believe in global warming, anthropogenic inputs affecting the earth, and ocean acidification, please send them my way. I have some very interesting numbers to show them! The most exciting data (exciting because we are scientists doing science, and when hypotheses turn out to be correct, we get kind of excited- even though this data is overall pretty sad) has come from water samples between 800 and 1600 meters' depth, where the pH has been between 6.6 and 7.0. The average oceanic pH is 8.0 (or at least it used to be). Even the highest values, from surface waters, have been in the mid- 7's.
There have been whales, sea lions, dolphins, birds getting disoriented on the boat at night, and my favorite: The brightest stars in the sky… Nope! Those are planets! Venus is huge! Jupiter is hanging out, too. Night-time strolls to the hammocks on the bow to look at the night sky are necessary some nights when the mayhem of collecting and analyzing water samples gets me feeling a bit stir-crazy.
Everyone has had to take a shift as watch leader, but my lab being away from everything has made it next to impossible for me. Last night was the final mapping survey and I was finally caught up on my titrations, so it was time. Shortly before my shift started, Liz wrote my name on the board. If you haven't seen the show Archer, you should. And yes, the hat is required.