2014 Tentative syllabus
Week 1:   Introduction, Math Physics Review and Special Relativity
Week 2:   Spacetime physics
Week 3:   Relativistic dynamics
Week 4:   QM Review, Known particles and interactions
Week 5:   Quarks and mesons
Week 6:   Baryons
Week 7:   Symmetries
Week 8:   Isospin
<![if !vml]>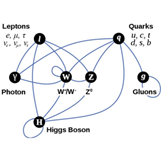 <![endif]><![if !vml]>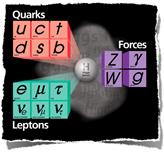 <![endif]>Week 9:   Discrete symmetries
Week 10: Force carriers and the Standard Model
<![if !supportLineBreakNewLine]>
<![endif]>
2014 (Spring) Class notes (link for the complete set with table of contents and index)

Preface
Chapter 0: Introduction
Chapter 1: Math methods
Chapter 2: Special relativity
Chapter 3: Minkowski spacetime
Chapter 4: Relativistic Dynamics
Chapter 5: QM and Angular Momentum
Chapter 6: Known particles
Chapter 7: Quarks and hadrons
Chapter 8: Symmetries

Supplementary:
Chapter 10: Intro to Group Theory
Chapter 11: Young Diagrams and SU(N) Representations

<![if !supportLineBreakNewLine]>
<![endif]>
2013 (Spring) Class notes (link for the complete set with table of contents and index)
Chapter 2: Minkowski spacetime
Chapter 3: Relativistic Dynamics
Chapter 4: Known particles
Chapter 5: Quarks and hadrons
Chapter 6: Symmetries
Supplementary
Chapter 10: Intro to Group Theory
Chapter 11: Young Diagrams and SU(N) Representations
<![if !vml]>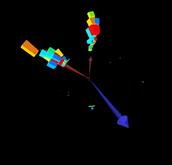 <![endif]>
2013 (Autumn) Class notes (using East Coast metric!)
Preface 
Chapter 0: Introduction
Chapter 2: Minkowski spacetime
Chapter 3: Relativistic dynamics
Grading
<![if !vml]>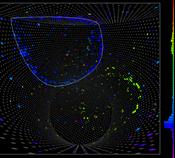 <![endif]>
There will be weekly homework assignments, one midterm, and a final exam. There will also be regular "clicker quizzes" during lecture. Grades will be based approximately 30% on homework, 10% on quizzes, 20% on the midterm, and 40% on the final. The final exam is a required part of the course

HW must be turned-in (either in class or in prof. Ellis' mailbox) by the end of class on the due date, typically a Friday (except for HW #1 that is due on the second Monday). Late HW with a 50% discount in points is allowed if turned-in (in class or in my mailbox) by the end of class on the class-day following the original due date (so typically a Monday—note this does not apply to the last HW as there is no following class-day). Hopefully we will have sufficient TA resources to allow graded and then corrected HW to be resubmitted for re-grading and increase in credit up to 80%.  The original HW plus reworked exercises (not including exercises performed fully correctly the first time) must be submitted by the first class-day after the initial graded HW is returned.  (Only exercises actually attempted the first time, can benefit from the 80% re-grade.  Otherwise the 50% limit holds.)  The "quantum" for reworked HW is the individual exercise.  Turning in just part of an exercise (e.g., parts (d) and (e) from a 5 part exercise) will not generate extra credit.  To facilitate the substantial paper handling inherent in this system requires that HW be turned in on standard size, 8.5x11 inch paper.  (Accurately handling a stack of paper involving 8x10 or 10x12 inch paper along with 8.5x11 is just too time consuming.)
Scores on quizzes, HW assignments and the MidTerm Exam can be seen on the Catalyst gradebook. Post-midterm the column labeled Projected Score is calculated assuming that the average (percentage) scores on the remaining HW assignments are identical to those on the previous assignments and that the (percentage) grade on the Final Exam is identical to that on the MidTerm Exam. The Projected Grade is a "flat" (i.e., not highly curved) mapping of the scores onto the range 0.0 to 4.0 such that the highest score yields a 4.0 grade and that passing (a grade of 2.0) comes from a score of approximately 40%. This is just an estimate of the Final Grade.  The total score and the grading algorithm will "mature" as more information becomes available. It is to everyone's advantage to learn from the HW sets and do well on the Exams and quizzes.

Top
Prerequisites – successful completion of Phys 121-3, 225 (Quantum I) and 227 (Elementary Mathematical Physics I); Phys 228 is recommended.  We will briefly discuss the most relevant subjects from Phys. 227 and 225 in Lectures 1 and 5.  Students are also encouraged to review the content of all of Phys. 227 in the Lecture Notes from the last time I taught that course (2008), which are available here.
<![if !supportLineBreakNewLine]>
<![endif]>
It is expected that students entering Phys 226 have some working knowledge of special relativity and quantum mechanics.  Some facility with the following is assumed: complex variables and complex arithmetic, harmonic (sines & cosines) and hyperbolic (sinh & cosh) functions, simple transformations represented by matrices operating on vectors or state vectors (including bras and kets), quantum numbers, eigenvalues and eigenstates (in the context of quantum mechanics), quantized spin in simple systems (e.g., spin ½ or related 2-state systems), symmetries and conserved quantum numbers.

For in-class use, students must have an H-ITT radio-frequency clicker, available new from the UBookstore, or sometimes used from sellers on Amazon or Ebay. Be sure to get the RF version: model TX3100 or TX3200.  Clicker quizzes will begin by the end of the first week of classes and occur regularly thereafter.
Textbooks
The course notes are the primary reference for this class, but these books may also be useful:

Introduction to Relativity by John B. Kogut
Introduction to Nuclear and Particle Physics by A. Das and T. Ferbel
Reading
Assignments
Please read prior to the indicated week: (Note Monday May 26 is a holiday)
| | | |
| --- | --- | --- |
| Week | Course notes | Textbooks |
| Mar 31 – Apr 4 | chapters 0, 1 & 2 | Kogut: chapter 1 & 2 |
| Apr 7 – 11 | chapter 3 | Kogut: chapter 3 & 4 |
| Apr 14 – 18 | chapter 4 & 5 | Kogut: chapter 4 |
| Apr 21 – 25 | chapter 5 & 6 | Kogut: chapter 6, Das & Ferbel: sections 4.1-4.4 (don't worry about last 1.5 pages) |
| Apr 28 - May 2 | chapter 7 | Das & Ferbel: sections 9.1 - 9.4.3 |
| May 5 - 9 | Continue & Midterm | |
| May 12 - 16 | Finish chapter 7 | Das & Ferbel: sections 9.4.4 - 9.8, 10.4 |
| May 19 - 23 | chapter 8 | Das & Ferbel: section 10.5, chapter 11 |
| May 28 - 30 | finish 8 and start 9 | Das & Ferbel chapter 13 |
| Jun 2 - 6 | chapter 9 | Das & Ferbel: sections 13.1 - 13.9 |