The Real Jurassic Park: Geological Explorations in Southwest England
University of Washington, Tacoma
TESC 417: Summer 2006

Home



Location: Bath



Introduction:
August 5, 2006--It was Saturday and we loaded the van and headed off for a day trip to the town of Bath to visit the historical Roman baths. The town was about a two-hour ride heading northeast. It was nice to have a long ride to catch up on sleep--for those of us who stayed up late the night before. It was nice for a change of pace to spend the day in town and experience the cultural aspects of England, especially in a town with a history dating back to the pre-Roman times.

Detail Map: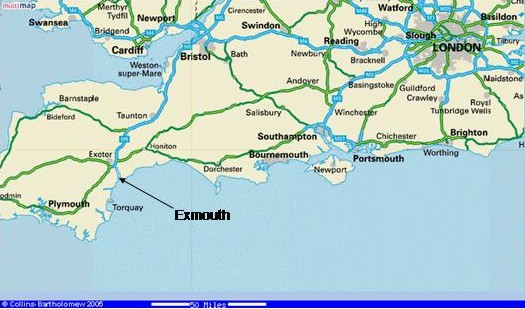 Highlights:
The topic for the day was to immerse ourselves in history and to study the architecture, geology and culture of Bath (that would be easy). We were immersed in history and culture the minute we stepped off the van and headed for the Roman Baths. As it turned out, we happened to arrive on one of the busiest tourist days of the year. We made the best of it and fought our way through the crowds--and it was worth it. It would have been nice to have had a chance to enjoy a relaxing hour in the baths, but they were strictly closed to any swimming or bathing. Nonetheless, we made our way into the depths of the building which dated back to 60 AD.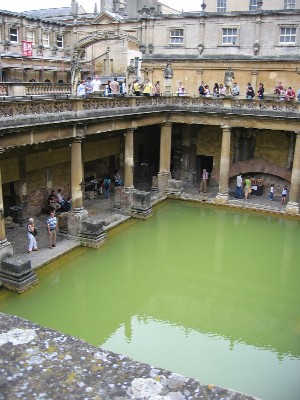 Roman Baths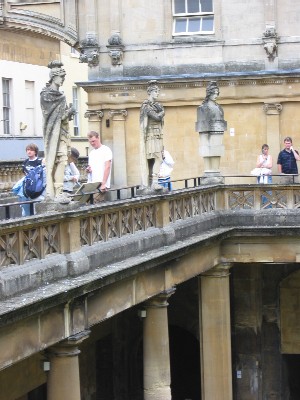 Gus and Daniel stand among the Romans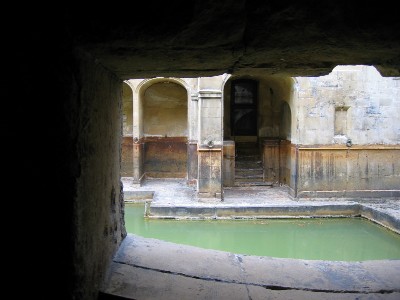 Inside the Roman Baths

History of Bath:
The Romans began to develop Bath as a spa and center of Pagan worship around 60 AD. There is evidence suggesting that Christians lived in Bath around 300-350 AD. The 5th century was the end of Roman Britian. In 577 the Saxons captured Bath at the Battle of Dyrham. In 1066 the Normans conquered Bath. In 1942 Bath was bombed and the Abbey located next to the Baths was damaged. Between 1991 and 2000 the Abbey was restored.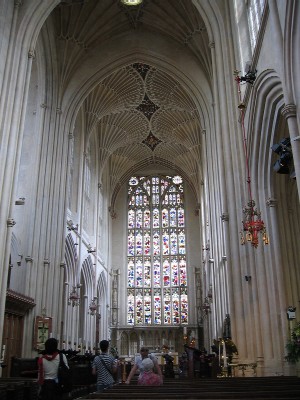 Bath Cathedral

Summary:
Visiting Bath was a wonderful step back in history--it was awesome to walk where the Romans had walked 2000 years ago. We had free time to wander the town and pretend we were tourists. Lunch was wonderful and some went for Cream Tea. Bath was a great place to look for souvenirs and to take it easy and watch the crowds go by. We stayed the day, then piled back in the van for one last night at Woodberry Downs.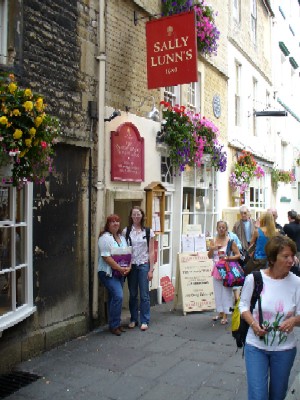 Jeanine and Brieanna take a tea break

Links to Related Projects:
The Romans in Britannia. By Alison Crouch
Holy Architecture!: Cathedrals, Abbeys, and Parish Churches of Southwest England. By Lisa Green
Geology, Landscapes, and Land Use of Dorset and East Devon. By Angus Leger


References and Acknowledgements:
-- Brunsden, Denys. The Official Guide to the Jurassic Coast, Dorset and East Devon Cost World Heritage Site. Coastal Publishing. Wareham, England, 2003.
-- Dorset: Coast and Countryside, Historic Towns and Villages. J. Salmon, Sevenoaks, Kent, 2006.
-- Detail Map: 2006 Multimap.com. September 2, 2006. http://www.multimap.com

Home