Osteoporosis is neglected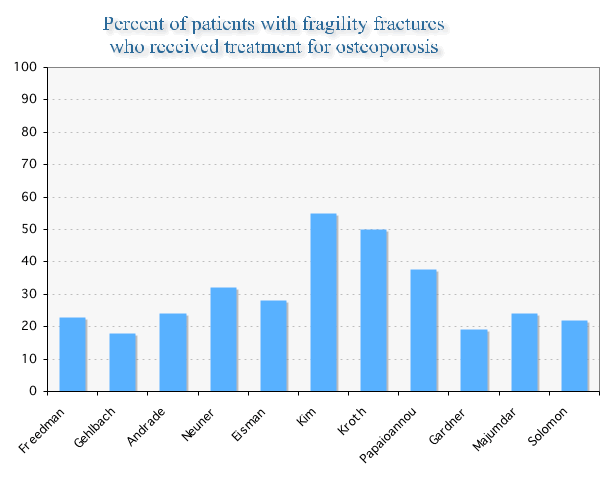 Click to see a table with details about the studies

Click to see the graph
HEDIS measures
The National Committee for Quality Assurance has added osteoporosis screening and treatment to its list of measurements for Health care effectiveness (HEDIS). Their most current report can be downloaded (HEDIS report 2010)
For osteoporosis screening, the measurement is the number of Medicare women over age 65 who report ever having received a bone density test. For treatment, the measure is the percentage of women older than 67 who suffered a fracture and who had either a bone mineral density test or a prescription for a drug to treat or prevent osteoporosis in the six months after the fracture.
BMD testing rate
2009
68.0%
2008
66.7%
2007
65.7%
2006
64.4%
Treatment after a fracture
2009
20.7%
2008
20.7%
2007
20.4%
This shows that we still are not doing very well about treating women who have had an osteoporotic fracture.
Updated 1/6/2011
---