For updates on current situations in Aceh, please visit IDEP and Aceh Media Center.
Student-produced pamphlets for sustainable recovery now available for download
Tsunami in S. Asia -- On December 26, 2004, a series of earthquakes caused tsunamis impacting nine countries in South Asia and leaving more than 100,000 dead and a further 2 millions forced from their homes. Over 10 countries are affected as far away as Somalia and Kenya with Aceh province in Indonesia and Sri Lanka said to be worst hit (Architecture for Humanity).
Landscape Architecture Studio -- This website is an attempt to assist local and international efforts to rebuild communities and ecologies in the region, with Aceh Province as a particular focus. It is part of a design studio at University of Washington in Seattle that examines how landscape architects can engage in the current and long-term recovery efforts in the region.
Barefoot Professionals -- Currently, a number of design and planning organizations are involved in assisting the relief and reconstruction efforts. For example, architects from as far away as New York City are now helping with developing shelters for homeless disaster victims. A group of 'barefoot architects and engineers' is also being formed to assist local communities in Aceh. The students are working to provide support for these and other local and international efforts. This studio is part of a network of individuals and programs around the world that are currently investigating strategies and approaches toward sustainable community and landscape recovery in the tsunami-impacted region.
Learning Objectives --
To investigate environmental and social impacts of major 'natural' disaster.

To investigate roles of landscape architecture in disaster relief and reconstruction efforts.

To develop skills in visual representation and communication to reach a broad audience, including local communities.

To develop knowledge and skills in becoming active and socially responsible landscape architects.
Contact -- For more information, please contact Assistant Professor Jeff Hou.
Updated -- March 26, 2005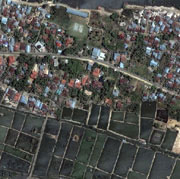 Banda Aceh, June 23, 2004 (Source: DigitalGlobe)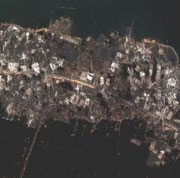 Banda Aceh, December 28, 2004 (Source: DigitalGlobe)