R/V Thomas G. Thompson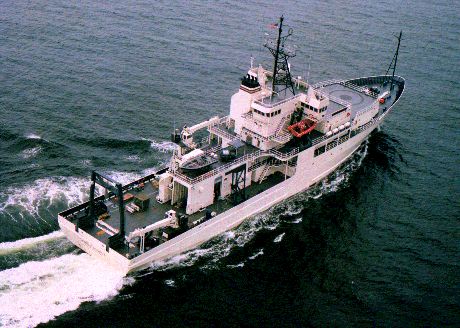 R/V Thomas G. Thompson (AGOR-23) is one of the newest, most modern vessels in the national oceanographic fleet. She entered service in 1991, and has greater endurance at higher speeds and with better sea-keeping ability than previous research vessels. These enhancements, together with modern navigation and communications capabilites and a state-of-the-art sea floor mapping system, enable the ship to perform a broad range of functions year round and world wide. The 274-foot-long ship carries a crew of 21 and up to 37 scientists. Thompson has over 4000 square feet of laboratory space, modern deep sea winches, bow and stern cranes, a stern A-frame, and spacious deck working areas. Her unique Z-drive main propulsion system and jet-type bow thruster provide the vessel with excellent station keeping ability, even in high seas.

More information on these and other vessels can be found here.