The Real Jurassic Park: Geological Explorations in Southwest England
University of Washington, Tacoma
TESC 417: Summer 2006

Home



Location: Exmouth



Introduction:
August 4, 2006--Friday afternoon brought us to Exmouth, our final destination along the coast, and for us, the end of the Jurassic World Heritage Site. The views were spectacular, the weather was cloudy and gusty which added to the excitment as we climbed our final cliff. We hiked up the path to view the Geoneedle at Orcombe Point. The Geoneedle is constructed from stone that represents the major building stones of the Jurassic Coast World Heritage Site and the sequence of rocks deposited along the site. The stones, starting from the bottom are: Red Sandstone, White Lias, Blue Lias, Ham Hill Stone, Forest Marble, Portland Stone, Purbeck Marble and finally Beer Stone. The Geoneedle was unveiled in 2002 by the Prince of Wales to inaugurate the site. It was rather awesome to stand in this historical location--and to remember all the adventures we had getting here!

Detail Map: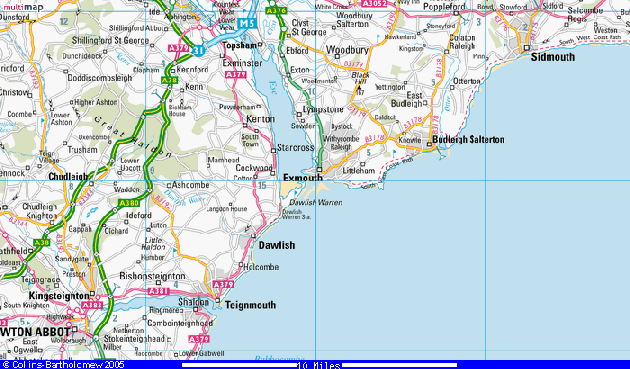 Highlights:
The Geoneedle and Orcombe Point in Exmouth actually marks the start of the Jurassic World Heritage Site at its most westernly end. If you walk around the bottom of Orcombe Point at low tide, you'll see the cross bedded sandstones that were formed in rivers due to current action on the sand grains. When you climb up the ladder you can see the successive layers that reveal the changes to a quieter and less powerful water flow that deposited siltstone and mudstones. (Jurassic Coast)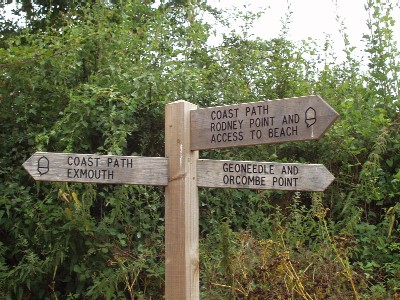 Finally made it! Destination--Orcombe Point, Exmouth, England!!!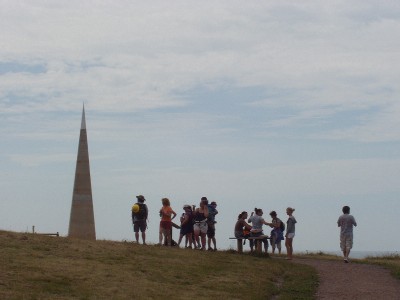 The weary travelers!

Synopsis of Area:
Like Budleigh Salterton, the rocks in these cliffs are the oldest on the World Heritiage coastline and part of the Triassic age--250 million years old. They are the same beautiful and striking red color which is a result of the desert environrment that existed in the area. The dramatic cliffs of red rock are the distinctive feature of the East Devon Coast. Although most of the Triassic rocks do not contain fossils, they do show clues that help us reconstruct a series of desert environments, with sand dunes, salt lakes, lagoons and rivers. The beautiful oranges and reds of this age are due to the iron minerals that have weathered to produce these spectacular colors of the cliffs.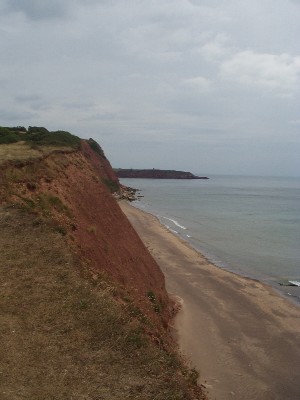 View from Orcombe Point

Summary:
Of course, this would be an important photo opportunity and we were in luck, we had one last Payday candy bar for bribing some innocent and unsuspecting visitor into taking our picture. The one picture request quickly turned into "many pictures please." Our gracious visitor/photographer was nice enough to take all the photos we wanted. He accepted his payment and was off on his bike.

Well, it was another full day and we were ready to head back for Lyme Regis and refreshments--we felt we had earned it!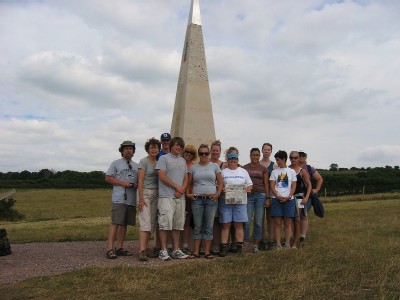 UWT class photo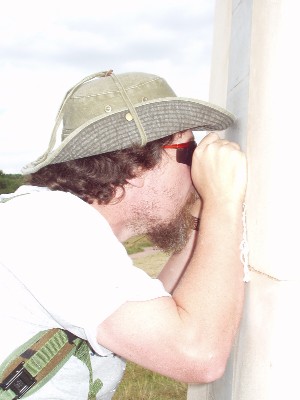 Nels--must be looking for more fossils

Links to Related Projects:
Geology and Tourism on the South England Coast. By Jenny Ripatti
Holy Architecture!: Cathedrals, Abbeys, and Parish Churches of Southwest England. By Lisa Green
World Heritage: Conservation Efforts in the United Kingdom and Ireland. By Jeanine Riss
Geology, Landscapes, and Land Use of Dorset and East Devon. By Angus Leger


Other Related Links:
Geology of the Wessex Coast, Southern England by Ian West


References and Acknowledgements:
-- Brunsden, Denys. The Official Guide to the Jurassic Coast, Dorset and East Devon Cost World Heritage Site. Coastal Publishing. Wareham, England, 2003.
-- Dorset: Coast and Countryside, Historic Towns and Villages. J. Salmon, Sevenoaks, Kent, 2006.
-- Detail Map: 2006 Multimap.com. September 2, 2006. http://www.multimap.com
-- Dorset County Council (2006). Jurassic Coast. September 22, 2006. http://www.jurassiccoast.com/index.jsp
-- West, Ian (2005) Geology of the Wessex Coast, Southern England. http://www.soton.ac.uk/~imw/

Home