Commencement Bay
[Main] [Introduction] [Methods] [Results and Discussion] [Data Repository]
Introduction
http://www.coloroflight.net/

Commencement Bay is part of the Puget Sound estuary located in Washington State. The Bay is a harbor for the City of Tacoma (pop. 199,826) with the Port of Tacoma located at the southwestern end (City of Tacoma 2010). The port consists of eight waterways (Thea Foss, Middle, Sitcum, Blair, St. Paul, Osgood Wheeler, Milwaukee and Hylebos) that are the result of the infill and channelization of the Puyallup River Delta that started in the 1800's. The Puyallup River, as well as a few smaller creeks including Hylebos, Puget, and Mason, is the main source of freshwater to the Bay.

Within the waterways are numerous industrial and residentail activities which may deposit contaminants into Commencement Bay. The contaminants include organic compounds such as polycyclic aromatic hydrocarbons (PAHs) and polychlorinated biphenyls (PCBs); metals including arsenic (As), copper (Cu), lead (Pb) and iron (Fe); in addition to phalates and dioxins (Partridge et al. 2010; Schults et al. 1987). Toxic materials may remain in the water column, but many also accumulate in the sediments where they pose a risk to benthic organisms as well as humans (Partridge et al. 2010).
| | |
| --- | --- |
| Prior to the introduction of hazardous materials into the Bay, this tide flat and wetland area was a pristine habitat for various fish and wildlife including salmon, migratory and shore birds, and marine mammals in addition to numerous benthic invertebrates (Partridge et al. 2010). These areas are still used by marine species for breeding, migrating, and foraging habitats, including some federally listed endangered and threatened species (NOAA 2009). Ecologists, local tribes, federal and state agencies as well as area residents, have voiced concern over the effects of contamination on these natural resources. Recovery and restoration efforts are ongoing as necessitated by the continued re-contamination of the Bay. However, improvements have been made and remediation efforts have been completed at the St Paul and Sitcum waterways (USEPA 2009). Collaboration amongst many agencies, organizations, tribes and various groups will continue the restoration efforts of Commencement Bay. | |
http://www.aequalisphotography.com/photos/potac.htm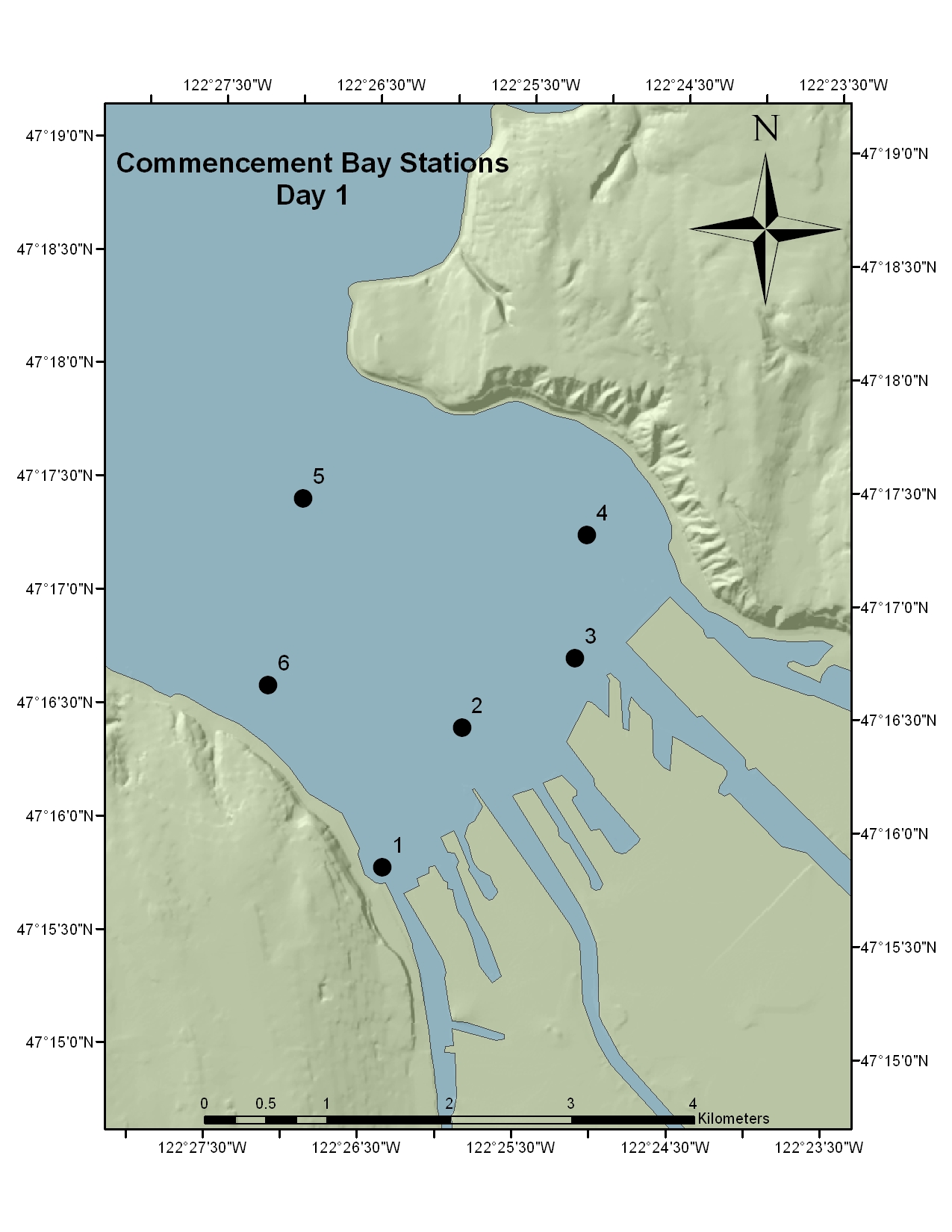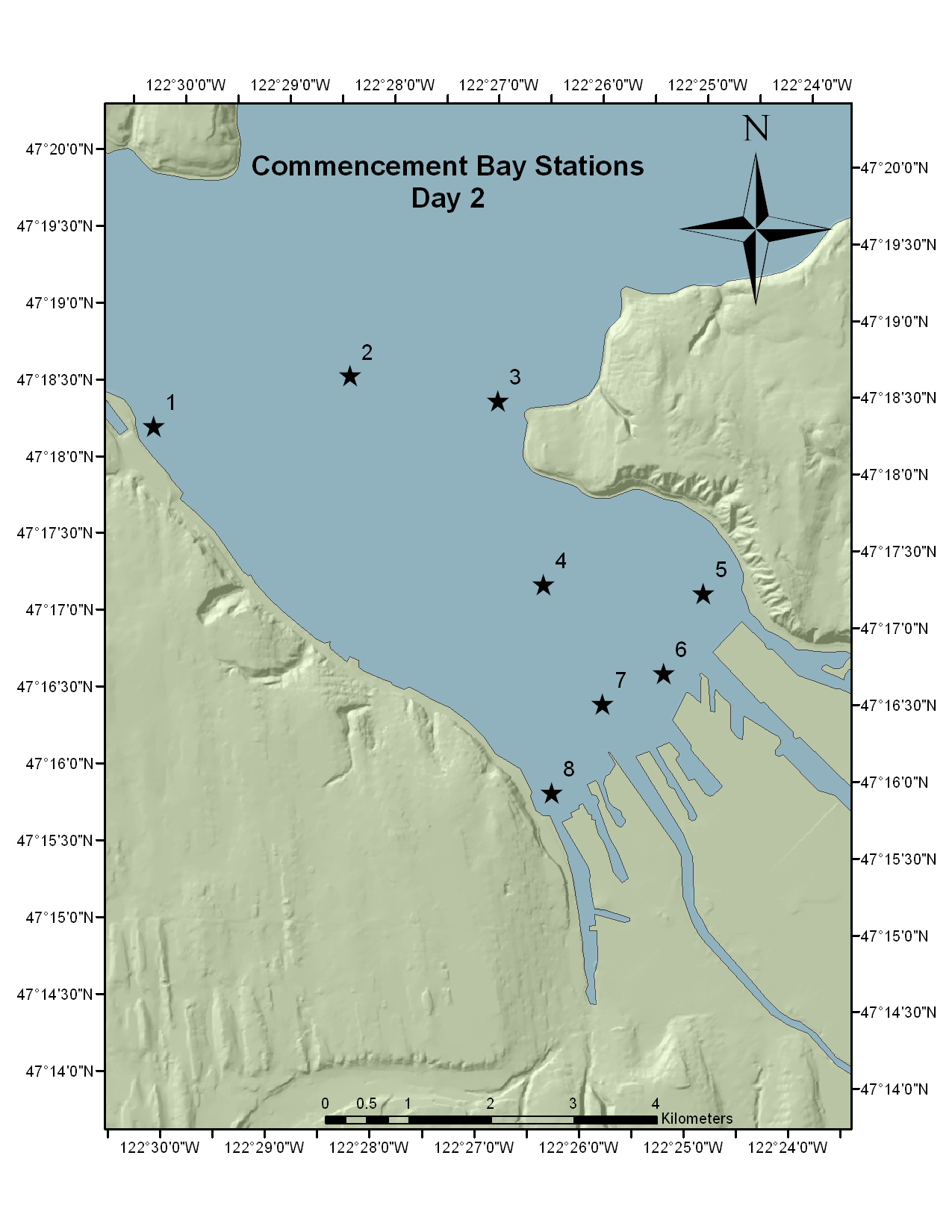 References
City of Tacoma. 2010. City of Tacoma [Internet]. Tacoma (WA); [cited 2012 Jan 10]. Available from: www.cityoftacoma.org
[NOAA] National Oceanic and Atmospheric Administration. 2009. Damage Assessment, Remediation, and Restoration Program (DARRP) Northwest Region, Commencement Bay [Internet]. Silver Springs (MD). [cited 2012 Jan 9]. Available from: www.darrp.noaa.gov/northwest/cbay/index.html
Partridge V, Weakland S, Long E, Welch K, Dutch M. 2010. Urban Waters Initiative, 2008: sediment quality in Commencement Bay [Internet]. Olympia (WA): Washington Department of Ecology Publication No. 10-03-019; [cited 2012 Jan 19]; 171 p. Available from: www.ecy.wa.gov/biblio/1003019.html
Schults DW, Ferraro SP, Ditsworth GR and Sercu KA. 1987. Selected chemical contaminants in surface sediments of Commencement Bay and the Tacoma Waterways, Washington, USA. Marine Environmental Research. 22(4):271-295.
[USEPA] United States Environmental Protection Agency. 2009. Third five-year review report for Commencement Bay nearshore/tideflats Superfund site Tacoma, WA [Internet]. Seattle(WA): US EPA; [cited 2012 Feb 4]; 14 p. Available from: www.yosemite.epa.gov/R10/CLEANUP.NSF/7780249be8f251538825650f0070bd8b/e8d62480494ad483882564f80082a1c0/$FILE/cbnt_3rd_5yr_exec_sum.pdf
[Main] [Introduction] [Methods] [Results and Discussion] [Data Repository]