The University of Washington Departments of Urban Design & Planning and Landscape Architecture present a studio on community engagement for:

neighborhood revitalization
historic preservation, and
development at the urban edge

...in rapidly urbanizing China.
Goals and Methods of the Studio
The UW Community Planning and Urban Design Field Studio in China is a 4-week, 8-credit course that brings up to 16 students in urban planning, landscape architecture, architecture and related fields such as China Studies, Geography and Anthropology, to deal directly with issues that confront urban design, planning and management in China and many other developing countries. The central focus of the studio is to explore how design can help to articulate diverging stakeholder interests in development at the community level, to help municipal policy-makers acknowledge this diversity of interests, and to explore ways that the urban planning decision-making process could become more inclusive of community.
Students will work directly with one or both of two communities in the coastal city of Quanzhou (pronounced in Mandarin like "Chwen-Joe"), in the southeastern province of Fujian. One community is a neighborhood designated for preservation in an economically and demographically declining corner of the city's historic center; the other is a burgeoning village at the city's expanding and increasingly industrial periphery. Each presents a typical set of urban problems in China.
In the first of these communities, Quanzhou's "Cheng Nan," students will be challenged with the tasks that face many obsolete inner-city environments: assessing the historic value of the buildings and spaces and the economic and housing conditions of the local businesses and residents; proposing housing and/or public space designs that both meet residents' aspirations for "modern" lifestyles and improved business conditions and also maintain architectural identity; and exploring strategies to use the neighborhood's cultural resources (particularly two important temples) as possible means to economic revitalization.
In the second community, Huo Ju Village, new formally planned factories sit adjacent to an unplanned, formerly agricultural settlement that now houses a large population of migrant workers and business owners from distant provinces. Students will need to examine the gaps between "policy" and "reality;" to critique plans that often ignore the presence of migrant populations; and to propose new ways of accommodating local villagers, "suburbanized" inner-city residents, and "temporary" migrants -- all in a rapidly changing and densifying environment.
Students will form teams to work with these different sets of problems, by conducting surveys and proposing design and development strategies in collaboration with local residents, authorities, scholars, professionals, and fellow planning and design students from Chinese universities. Their ultimate goal is to assist the local planning authority in its effort to establish a public discussion on appropriate development goals for the city's diverse communities.
An especially exciting feature of the studio is the possibility that it will play a major part in assisting the city to host a national conference on "Democratization of the Urban Planning Decision-making Process," organized by the Chinese Association of Urban Planners. This would be the first such conference ever held in China, and the faculty of this studio have proposed that it be held in Quanzhou, as the culmination of a participatory community planning initiative in this city supported by the Ford Foundation. Student design work may therefore take the form of actual development proposals, and the social and cultural surveys may result in service and policy proposals, but all of the student work is more fundamentally intended to illustrate the development visions of different interest groups, for display in a public exhibition at the time of the conference, and as a reference for the city's planners and general public.
Pedagogically, the studio is intended to demonstrate the value of educational exchange not only between students from Mainland China, Hong Kong, Taiwan and North America, but also more broadly between professional students and social science/area-studies students. For the North American professional students -- most of whom do not have Chinese language ability or any prior knowledge of China -- social science students focusing on China will be of great help with interpreting the context of professional tasks and translating the language. For the Chinese, Hong Kong and Taiwanese professional students in architecture and planning, exposure to social scientific approaches will enhance their appreciation for the increasing multidisciplinarity of urban environmental problem-solving. Finally, for the social science students from all the universities, the task of engaging communities on a practical level through planning and design activities will help to ground their knowledge and understanding of Chinese society.
Faculty of the Studio
UW faculty Dan Abramson (Assistant Professor of Urban Design and Planning) and Jeff Hou (Assistant Professor of Landscape Architecture) will lead the studio group.
Prof. Abramson has conducted research, design and planning work in Quanzhou since July 1993. He has a doctorate in urban planning from Tsinghua University in Beijing, speaks Mandarin Chinese, and has led or participated in six collaborative studios and workshops in Quanzhou and has advised four students in their thesis field work in that city. He specializes in cross-cultural issues in community planning, urban design and historic preservation.
Prof. Hou is a specialist in community design and environmental activism in Taiwan, where culture, language and architectural tradition have strong historical roots in Quanzhou. He speaks both Mandarin Chinese and Taiwanese/Minnan - the language of southern Fujian, which includes Quanzhou. Prof. Hou has extensive experience with international educational exchange and collaboration in urban planning and design.
Prof. Michael Leaf of the University of British Columbia's School of Community and Regional Planning and Centre for Human Settlements will join the studio for the full period, to provide guidance especially in working with the peri-urban community of Huoju.
Prof. Frank Ching of the UW Department of Architecture will join the studio for one week as a guest instructor in graphic communication for community visioning.
Studio Participants
A number of students, faculty and professionals from other institutions within and without China are expecting to join UW in this activity, including:
the Chinese Academy of Urban Planning and Design, Beijing, China
the Overseas Chinese University Department of Architecture (Prof. Liu Gong and students), Quanzhou, China
the Southeast University Department of Architecture (Prof. Dong Wei and students), Nanjing, China
the Peking University Department of Anthropology (Prof. Wang Mingming and students), Beijing, China
Other potential participants are from
Taiwan: the Chongyuan University Department of Architecture and/or the National Taiwan University Building and Planning Research Foundation (Profs. Yu Chaoching and Wu Qiongfen and students)
Hong Kong: the Hong Kong Polytechnic University Department of Architecture (Prof. Jackie Yan-chi Kwok and students) and/or the Chinese University of Hong Kong Department of Architecture (Prof. Jeff Hou and students)
Canada: the University of British Columbia Center for Human Settlements (Prof. Michael Leaf)
The studio's official host will be Mr. Huang Shiqing, Vice Director of the Quanzhou Municipal Urban and Rural Planning Bureau.
Schedule (Tentative)
June 21 (Monday): arrive in Beijing
June 22 (Tuesday): tour of traditional city-center neighborhoods (hutong) and peri-urban/migrant settlements (chengzhongcun) in Beijing
June 23 (Wednesday): fly to Quanzhou
June 24-25 (Thursday-Friday): general tour of the old city of Quanzhou
June 26-27 (Saturday-Sunday): community tours in Cheng Nan neighborhood and Huoju village; meet with community groups
June 28 (Monday): presentation by Municipal Planning Bureau
June 29-July 1 (Tuesday-Thursday): stakeholder interviews and initial visioning
July 2 (Friday): full-group information sharing session and stakeholder feedback
July 3-4 (Saturday-Sunday): trip to Hakka roundhouses
July 5-8 (Monday-Thursday): refinement of stakeholder visions
July 9 (Friday): full-group information sharing session and stakeholder feedback
July 10 (Saturday): daytrip break
July 11-16 (Sunday-Friday): production of vision posters for exhibition
July 17-19 (Saturday-Monday): public exhibition and conference
Travel Arrangements
Getting There: Each student must have a valid passport that will not expire until after all travel outside the U.S. is complete. Travel arrangements to and from China are the responsibility of each student. The instructors will arrange a rendez-vous with students in Beijing on Monday, June 21, which will be followed by a one-day orientation in that city. Air travel from Beijing to Quanzhou on Wednesday, June 23, will be arranged in advance by the instructors, and will require a deposit. It is not mandatory that all students gather first in Beijing, but it is highly recommended for any students who have not been to China before. Students who wish to arrive in Quanzhou on their own must notify the faculty in advance and they will be responsible for making their own travel arrangements. The address and contact information of the hotel where the studio group will stay, and directions to reach the hotel in Beijing from the Beijing Airport, are at this link: http://courses.washington.edu/quanzhou/beijing_directions.pdf.
Directions to get to the hotel in Quanzhou directly are at this link: http://courses.washington.edu/quanzhou/qz-directmap-s.jpg.
Getting Around: Local transportation in Quanzhou is ideally arranged by renting bicycles, or by taking taxis. Large group transportation will be arranged by bus in coordination with local planning authorities. The nearest project site is 20-30 minute's walk from the hotel. The more distant site is about the same time by taxi (approximately US$1.50 each way).
Side Trips: There will be one full weekend free for an overnight excursion to sights outside of Quanzhou, including, for possible examples, the mountainous counties of inland Quanzhou, Zhangzhou or Longyan prefectures with their tea plantations and Hakka clan roundhouses. Weekend day-trip possibilities include the bustling port city of Xiamen (known in Treaty Port times as Amoy), or the walled fishing village of Chongwu and its nice beach.
Getting Out: The studio will be completed on Monday July 19. Students will be responsible for arranging their travel out of Quanzhou after that date. The faculty will purchase only one-way tickets to Quanzhou for the students. Round-trip airfare in China costs exactly twice the one-way airfare, so there is no saving by purchasing round-trip tickets (indeed, there are often discounts on tickets leaving Quanzhou that cannot be obtained by purchasing them in Beijing). Moreover, students are likely to have varying travel plans after the completion of the studio. Flights are rarely full, so there will enough time while in Quanzhou to arrange travel onwards.
Accommodations
Accommodations will be arranged by the faculty for both Beijing and Quanzhou. The likely place to stay in Beijing is the Youhao Binguan (Friendly Guesthouse), a quiet, courtyard-and-villa-style hotel (formerly the Beijing residence of Chiang Kai-shek) in the middle of one of Beijing's best-preserved historic neighbourhoods of hutongs (lanes) and siheyuan (courtyard houses). Shared double (twin beds) rooms with air-conditioning, refrigerator and private bath are about US$30/night per person.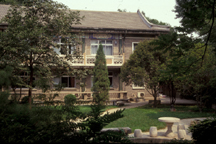 The Youhao Binguan in Beijing
Directions from the airport and contact information for this hotel are at this link: http://courses.washington.edu/quanzhou/beijing_directions.pdf.
In Quanzhou there are two hotels that offer the most suitable accommodations, both at about half the price of the Youhao Binguan in Beijing for the same standard of rooms, and both quite modern and located in the very center of the city:
Students will be expected to do much of their work in the hotel rooms. Depending on the size of the group (determined not only by the number of UW students but also Chinese, Hong Kong, and Taiwanese students), it may become economical to rent a small conference room in the hotel for extra work space. Also, the Planning Bureau is likely to have a room available for the studio, but its hours of access will be limited.
Students will take their meals in the restaurants that abound in the city. Breakfast can be had at most small shops for as little as $0.25.
Cost
It is each student's responsibility to fund his/her participation. The following is an upper-end estimate of most studio-related costs in US Dollars (not including UW tuition, insurance, medication or supplies). This estimate already takes into account the lower group rate usually offered for hotel rooms in Quanzhou on Planning Bureau-sponsored business. Usual discount airfares to China and within China are likely to reduce the following costs by an additional $300-500.
| | |
| --- | --- |
| Visa | 75 |
| RT airfare Seattle-Beijing | 1,200 |
| Local transport, meals and accommodations in Beijing for 2 days | 125 |
| RT airfare Beijing-Quanzhou | 325 |
| Excursion travel in Quanzhou (overnight stays not included) | 30 |
| Airport taxes in China | 25 |
| Accommodation in Quanzhou for 28 days* | 385 |
| Meals in Quanzhou for 30 days | 120 |
| Bicycle rental in Quanzhou | 15 |
| ESTIMATED TOTAL per person, exclusive of tuition, insurance, medication and supplies: | 2,300 |
Deposit
Each student must pay a deposit of $200 no later than March 15 (the deadline for students accepted into the program to decide whether to join or withdraw from the studio -- see Application, below), by personal check made out to Daniel Abramson. These funds are necessary to ensure student commitment to the program, to cover advance purchase of Chinese domestic airfare, to secure discount group hotel rates in Quanzhou, and to cover contingencies (such as the rental of extra work space, etc.). The deposit is due regardless whether the student joins the group in Beijing or makes his/her own way to Quanzhou. The deposit is also non-refundable, except in the event that the studio is cancelled.
Funding Opportunities
Students may seek their own sources of funding, including standard financial aid for summer quarter, but the faculty of the studio will update this section as they become aware of any relevant special opportunities for financial support. UW students may always avail themselves of the UW Grants & Funding Information Services (GFIS) for graduate students.
Eligibility
The studio is open to UW juniors and seniors in Landscape Architecture, and to graduate students at UW and other universities in Urban Planning, Landscape Architecture, Architecture, and other related fields including China Studies, Public Affairs, Geography and Anthropology. However, the studio is limited to 16 students in total, and if there are more than 16 applicants, priority will be given according to seniority (e.g. graduate students before undergraduates, and advanced graduate students before entry-level graduate students). All other factors being equal, the faculty will strive to seek a mix of students with complementary skills, including -- but not limited to -- architectural, landscape and urban design; community facilitation experience; land use planning, infrastructure and engineering; development policy; fluency in Minnan or Mandarin Chinese; and research, work or living experience in China or other Asian and developing countries.

Prof. Abramson will teach a 2-credit required studio prep course once a week on Monday evenings during Spring Quarter. It is required of all students who wish to participate in the summer studio. The course will cover a combination of topical background readings on Quanzhou and China, methodological readings and exercises relating to facilitation and planning in developing-world contexts, and practical information and "survival language skills (e.g. how to pronounce pin yin romanized Chinese). More details about this course will be posted on the web and linked from this page.
Credit Requirements
The studio is offered for 8 credit units, which reflect the intense time commitment and immersive experience. For students in the Urban Design Certificate and/or Master of Urban Planning programs, the course will count as an urban design studio and/or a second-year planning studio (equivalent to UrbDP 508).

In addition to participating in teams, each student is also required to keep a journal of observations and impressions of the environment, the issues, and the studio experience as a whole, in text and graphic form (including photographs, sketches and/or maps). Journals must be complete and turned in to the faculty at the end of the studio. If original journals are turned in, the faculty will return the journals at the start of the autumn quarter. If this is not convenient for students, the faculty will accept clearly legible photocopies or electronic copies instead of originals.
Application
As the number of participating students is limited, and to assist faculty tailor and administer the program as well as select participants, students must complete this application form (downloadable here, in Word format) by either:
printing it out, filling it in and submitting it with supporting materials either to the mailboxes or fax # of either of the two faculty contacts (below); OR
filling it in electronically in Word and emailing it to BOTH faculty contacts.
Applications are due March 1, 2004. Students will be notified by March 12 of their acceptance or placement on a wait list. Accepted students must confirm with the faculty by 5:00pm March 15 that they will enroll in the studio and submit their deposit by check at that time, or withdraw their application so that applicants on the wait list can be notified.
Insurance
Health insurance coverage is mandatory. Students in a University of Washington degree program may purchase UW student excursion/field trip insurance or other coverage (any student with the Annual Plan is covered anywhere in the world through summer); others must provide their own insurance, and provide proof of insurance coverage along with their agreement to enroll in the studio (by March 15). For this purpose, and also to provide necessary information in case of emergency, all students joining the studio will be asked to complete and submit a release form (downloadable here), modeled on the standard UW Office of International Programs and Exchanges form.


Regardless what information is posted on this web page, it is the student's responsibility to determine what University policies are in force and to comply with them. For more information, inquire with the Risk Management Office. See http://www.washington.edu/admin/adminpro/APS/14.01.8.html. The International Programs and Exchanges website also has extensive information at http://www.ipe.washington.edu/students/before.php (pull down the menu under "reasons to go abroad"), or telephone 206-543-3419.
Innoculations
Students are also responsible for determining what medications and innoculations they may need during or before the trip. According to "International Travel Shots Available" in http://depts.washington.edu/~uweek/archives/1999.07.JUL_22/_NewsBriefs.html, "The Hall Health Travel Clinic is ready to help you have a safe and productive international journey, whether for business, field study or pleasure. Everyone on and off campus is eligible to use the services. When possible, try to call 4-6 weeks before your departure date so that immunizations can be scheduled at your convenience. For an appointment call 616-1186. For more information, call 685-1060 or e-mail travel@u.washington.edu."
Equipment
Most standard office and drawing supplies can be purchased at inexpensive prices in Quanzhou. Special drafting equipment should be brought. If students have laptop computers, cameras (film or digital), it is highly advisable to bring these. Once the studio group is determined, we will determine what equipment is available among the group, whether any of it can be shared, and whether the College of Architecture and Urban Planning or participating departments may be able to loan the group any necessary additional equipment.
Emergency Contact
Faculty will remain in Beijing and Quanzhou with the group for the duration of the studio. It is students' responsibility also to remain in the same cities with the group, or to notify the faculty of their whereabouts in case of permitted excursions.

The faculty will notify the nearest U.S. consulates in China (addresses and contact information below) of the presence of the studio group in China, with the names and passport numbers of each participant.

Quanzhou is within the jurisdiction of the U.S. consulate in Guangzhou (Canton): http://www.usembassy-china.org.cn/guangzhou/cons/acs.html
No. 1 Shamian Street South
Guangzhou, P.R.C. 510133
Phone: (86-20)8121-8000
Fax: (86-20)8186-4001
After hours emergencies: (86)139-0229-3169

The next nearest U.S. consulate to Quanzhou is in Shanghai:
http://www.usembassy-china.org.cn/shanghai/acs/index.html
1469 Huai Hai Zhong Lu
Shanghai, P.R.C. 200031
Phone: (86-21)6433-6880
Fax. (86-21)6433-4122
After Hours Emergencies: (86-21)6433-3936
Background Information Relevant to Quanzhou and Urban China
The following articles by Dan Abramson and collaborators are in draft form, and have been modified significantly for publication. Please refer to the published works for purposes of citation.

Leaf M. and D. Abramson , "Global Networks, Civil Society, and the Transformation of the Urban Core in Quanzhou, China", in Southern California and the world, edited by Eric Heikkila and Rafael Pizarro (Westport, CT: Praeger, 2002), pp. 153-178.

Abramson, D. B., M. Leaf, and Y. Tan, "Social Research and the Localization of Chinese Urban Planning Practice: Some Ideas from Quanzhou, Fujian", in The New Chinese City: Globalization and Market Reform, edited by J. R. Logan (Oxford: Blackwell Publishers, 2002), pp. 227-245. First presented at the Urban China Research Network- sponsored international conference in Shanghai on the "Future of Chinese Cities," July 1999.

Other research activities and possible funding opportunities by the Urban China Research Network

Miscellaneous Links:

Vernacular Architecture in Quanzhou

Archeology of Quanzhou

By Johan Nilsson and Tan Ying


Frequently Asked Questions
Do I need a passport and visa?
Yes. And the passport must be valid for the entire period you expect to be outside the U.S, plus an extra six months beyond that. If you don't have one already, apply for one now through the U.S. passport office. It can take up to 2 months for a passport to be processed so don't wait until the last minute.

Will there be time to be a tourist?
Within the studio period there will be two weekends during which students may take excursions in southern Fujian, plus at least two days of organized touring within Quanzhou and one day of organized (topic-oriented) touring in Beijing. To do more than that, you should make time either before June 21 or after July 21.

What if I want to follow a different itinerary from the one you have arranged?
It is not absolutely necessary to gather in Beijing first, but Quanzhou is a somewhat tricky place to get to, especially if you do not speak Chinese. There are no direct international flights to Quanzhou, and no train. If you want to get to Quanzhou from Xiamen, the nearest railhead, or from other Chinese cities with direct flights from abroad and to Quanzhou (Shanghai, Guangzhou, Shenzhen, Xiamen, etc.), ask Dan Abramson and he can give you some advice.

Do I need to know the language?
No. We expect to have enough participants in the studio (from UW or from other universities) who speak both Chinese and English in order to share information. However, it would help a great deal even just to learn the basic rules of the standard romanization system used in the People's Republic (hanyu pinyin), since most street signs and maps include it, and to learn how to count and identify essential words (e.g. "cesuo" is "toilet"). Ideally, you could enroll in a basic Mandarin Chinese class during the spring quarter, if not at UW, then at another local college. Quanzhou is a medium-sized city with very few English speakers, so you will be truly immersed.

Is China a safe place? Do I need property insurance?
Given its size, and diversity and density of population, China is a very safe place. This is largely due to China's traditional controls on public order and restrictions on changing one's place of residence. However, as the country's economy opens up, people move more freely from place to place, and the gap between rich and poor grows larger, crime rates have risen. Quanzhou is a wealthy city, and people from poorer regions increasingly come there to beg. Burglary and pickpocketing is also on the rise, but violent crime remains extremely rare. Quanzhou in particular is a lively city with active streets well into the evening. Visitors should nevertheless remain vigilant about their personal belongings when out in crowded public places, and should not leave loose cash in their hotel rooms. Prof. Abramson travels to Quanzhou twice a year on average, however, and has never felt concerned about leaving a laptop computer sitting out on the hotel room desk when he is absent. For further information, please refer to the State Department Travel Advisory on China, at http://travel.state.gov/china.html.

How are Americans viewed there?
Chinese-American relations are complex, but as in most places around the world, people distinguish clearly between citizens and government. Even during the most tense relations, as when the U.S. bombed the Chinese embassy in Belgrade, expressions of resentment against individual Americans was rare. Quanzhou is particularly not prone to political demonstrations of a non-local nature. Most residents have relatives abroad, and it is historically a very open, tolerant city.

It is always advisable when traveling not to call undue attention to oneself, either through gathering in large groups, speaking unusually loudly, or wearing immodest clothes by local standards. In the case of our studio, we will have the advantage of being mixed with domestic Chinese, and perhaps Hong Kong and Taiwanese students. Again, for further information, please refer to the State Department Travel Advisory on China, at http://travel.state.gov/china.html.

What are medical conditions like?
Urban hospitals are crowded and spartan, but clean and well-staffed. Foreign visitors always receive a great deal of attention (sometimes embarrassingly so). Chinese hospitals cannot process foreign medical insurance, but charge such low fees that it is usually possible to pay the cash and then be reimbursed at home. For more routine ailments, Chinese pharmacies and clinics offer a fascinating array of both Western and traditional Chinese remedies. It is best to avoid medicines that are a combination of these two traditions, however. Aspirin or any acetominophen is best brought with you; for some reason this is hard to find in China.

What about Severe Acute Respiratory Syndrome (SARS)?
The SARS epidemic of the first four months or so of 2003 was very disruptive in China, and caused the cancellation of the original plans for this studio, among many other activities. The University of Washington adopted a policy of forbidding university-sanctioned activities in countries for which the US Centers for Disease Control had issued an advisory or alert (see http://www.cdc.gov/ncidod/sars/travel.htm). Updated information about SARS is also available from the World Health Organization at http://www.who.int/csr/sarsarchive/en/.

What are the options for people with dietary restrictions?
China is a vegetarian's heaven for doing one's own shopping and cooking. Unfortunately, this studio group will not be able to cook for itself, and will rely on restaurants, which are used to serving meat dishes. No matter where you eat in China, though, the choice of ingredients and dishes is overwhelming. It is easy to say the words for "vegetarian dish" and "I don't want meat" (this and other vocabulary will be covered in the orientation sessions), and waiters will understand. There are also a number of Buddhist temples in Quanzhou and restaurants that cater to them, and their fare is strictly vegetarian. There are also Halal restaurants, and these also might serve as a basic substitute for Kosher cooking.

What is the weather like?
Quanzhou is hot in the summer. It is at about the same latitude and with similar climate as Miami, Florida. Most of China, and especially the south, has a siesta culture of waking early, taking long midday breaks with time to nap, working again until about 6:00pm, and socializing in the evening. Studio participants are advised to adopt this schedule, especially regarding site visits and field surveys. It will be virtually impossible to accomplish any survey work in the neighborhoods between 11:30am and 3:00pm, because of the heat and because most residents are resting then.

What clothes should I bring?
Quanzhou is a relatively informal city, largely due to its climate. On most days, shortsleeve shirts, short pants or skirts, and sandals will be appropriate and most comfortable. Sunscreen and wide brim hats are useful. Even at official meetings and dinners, locals almost never wear ties or longsleeve shirts in the summer. For such occasions, though, studio participants should wear long pants or long dresses, and men should wear socks. The city has one quite large waterpark, and one of the nearby excursion destinations has a beach, so swimwear would be useful. The end of the studio period overlaps with the beginning of typhoon season, so an umbrella and light rainwear is also useful.

How can I pay for things?
The only cash currency used in China is the Renminbi Yuan (RMB), which is generally not available in banks in the US at advantageous rates. Banks and hotels in China readily change RMB for cash in US$, HK$, Japanese Yen, and major European currencies. Rates have been stable in recent years at about US$1.00 = RMB8.20. Black market money changers on the street will occasionally offer a higher rate, but such activity now is not nearly as prevalent or as advantageous to the traveler as it used to be. Visa, Mastercard, and American Express credit cards are all accepted in the hotels. Travelers checks are accepted in fewer places, but Quanzhou has more than one bank branch that will accept them.

What are communications like? How can I stay in touch?
Quanzhou's main post office has a very comfortable and reasonably priced internet salon, and the city center is teeming with small private internet cafes that are even cheaper. Hotel rooms have standard telephone lines that can be removed from the phone and plugged into a laptop computer, which can be easily configured to dial up to a local phone company-run service provider for about than US$1.50/hour. Hotel long distance phone service is expensive, but IC phone cards are cheap, can be bought at hotel business centers or in nearly any small corner shop, and can be used for both domestic and international calls in all public pay phones, of which there are many in Quanzhou's city center.

What is there to do with leisure time in Quanzhou?
The studio work pace will be intense, but for moments of leisure Quanzhou is a fun city. Local residents lead an active night life. The streets in the city center are busy with open-air restaurants and many traditional opera and ballad-singing clubs giving free public performances almost every evening. Every hotel and most large restaurants have karaoke. There are a few discos, and many small bars, internet cafes, traditional tea houses, good coffee houses, and one hotel has a bowling alley. For quieter times, there are two ancient Buddhist temples with shady grounds in the heart of the old city and a large modern park with award-winning landscape design around a series of lakes at the edge of the city center -- all great places to contemplate and write in your journal during the middle of the day when everyone else is napping. The city is overlooked by Qing Yuan Shan, a mountain that is much cited in Chinese literature, and dotted with small shrines, pavilions and paved pathways.
---
Faculty Contact
All interested students should please provide her/his name, department, year of study, and a brief description of background and interest in the studio via email or fax to:

Dan Abramson
Department of Urban Design and Planning
Box 355740, 410 Gould Hall, Seattle, WA 98195
tel: 206-543-2089, fax: 206-685-9597
email: abramson@u.washington.edu and

Jeff Hou
Department of Landscape Architecture
Box 355437, 348 Gould Hall, Seattle, WA 98195
tel: 206-729-2581; Fax: 206-685-4486
email: jhou@u.washington.edu.