Bone density and Fracture Risk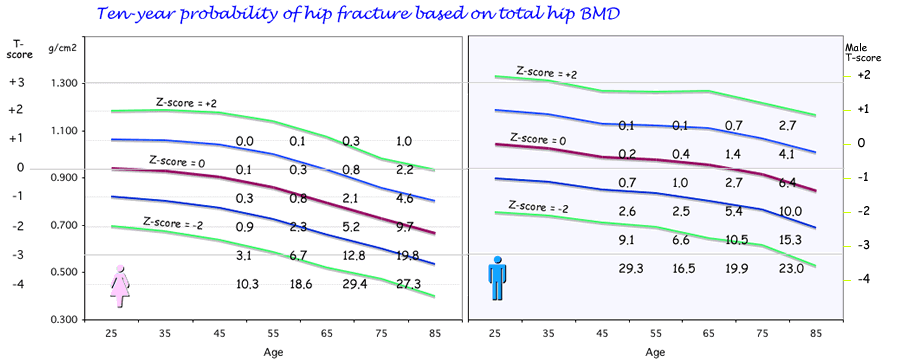 The above graph shows data from the NHANES study, using the Hologic DEXA, with superimposed numbers from a large meta-analysis of relationship between BMD and fracture risk in 39,000 persons from Europe, North American and Japan. (Johnell O)

You can also use the Fracture risk calculator to estimate the fracture risk based on the bone density.
The relationship between bone density and risk of fracture in a population depends on several things, including:
gender
age
severity of osteoporosis
method of measuring bone density (DEXA, QCT, ultrasound, etc)
skeletal location (total hip, femoral neck, spine, arm, heel)
kind of fracture (hip, spine, all fractures, fragility fractures)
In an individual, the quality of the bone, the shape of the bone, the presence of a fracture or other risk factors, weight, muscle strength, and the tendency to fall are all important to predicting the risk of fracture. These factors are not included in the graphs relating bone density to fracture risk. Different races also have different fracture risks that are not all related to the bone density.

More graphs relating bone density to hip fractures
Discordance between spine and hip bone density
Hip fractures are the most definite fractures to count, and they are also the most serious fractures, so most of the graphs here show the risk of a hip fracture.
In general the DEXA of the hip (either total hip or femoral neck) is the best predictor of both hip fractures and spine fractures. Bone density in an individual usually has about the same relative value at the hip and spine. However, if there is a discrepancy, then the hip bone density is more predictive of hip fractures and the spine density more predictive of spine fractures.

More graphs about discordance between spine and hip bone density
Updated 7/13/07
---