What is NEW?
---
October 2019 My presentations at ASN and ACR
I just returned from giving talks at the American Society of Nephrology and the American College of Rheumatology. One about medications used to treat bone in chronic kidney disease and the other some case-based discussion of treatments for osteoporosis . Finally, I put a powerpoint of animations of bone turnover, seen on the animations page
---
Feb 2019: new page on abaloparatide Abaloparatide
---
Jan 2019: Romosozumab approved by FDA
---
May 2016: Denosumab update
Cautions about hypocalcemia, especially in patients with kidney disease. Concerns about rebound after discontinuation. Updates on long-term use. See the new revised page.
Feb 2016:Romosozumab reduced fractures
The company put out a press release that their large study showed vertebral and clinical fracture reduction after a year of romosozumab. They then followed the treatment with a year of denosumab (another drug made by the same company). There aren't very many details at all in this press release, but it sounds like there weren't serious side effects, which is good news. It will be interesting to see that actual data from the study. I'm not sure why they followed with denosumab; unlike teriparatide this should not have been necessary because romosozumab reduces bone resorption. This may have been a business decision instead of a scientific one. Read more about the earlier studies of sclerostin.
---
Jan 2016: Markers
This page was generally revised with references links that now work.
Dec 2015: Steroid osteoporosis
This page was really out of date and I'm updating it, new list of references and a diagram about the bone effects.
March 2015: Bone hormones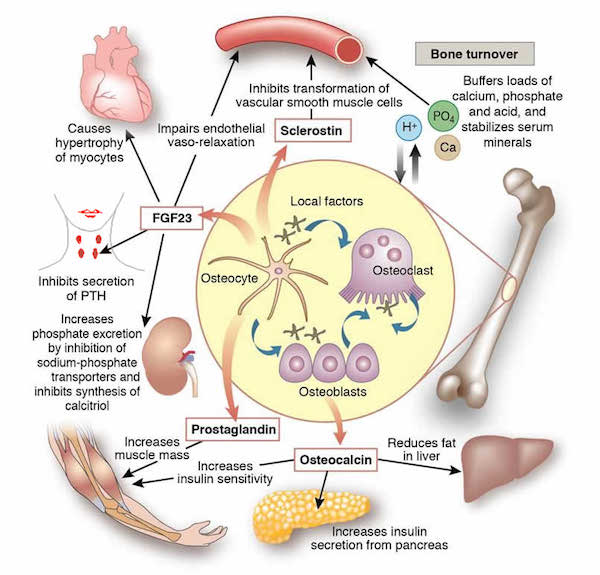 This is a figure from my commentary, "What's Bred in the Bone will Come Out in the Flesh" in the March issue of Kidney International. Soon I will add the information to this web page.
I am planning to update the entire web page. If you notice anything that seems out of date, feel free to send me an email (address on front page).
February 2014: Romosozumab improves bone density
McClung Romosozumab in postmenopausal women with low bone mineral density. N Engl J Med, 370(5), 412-420. doi: 10.1056/NEJMoa1305224.
This was a phase 2 study of the new anti-sclerostin antibody, showing increases in the bone density during a one year study. This new medication looks very promising. Read more about sclerostin on this web page.
---
December 2013: Ethnic differences in bone metabolism and vitamin D.
Jorgetti Ethnic differences in bone and mineral metabolism in healthy people and patients with CKD. Kidney Int (advance on-line)
Powe Vitamin D-binding protein and vitamin D status of black Americans and white Americans. N Engl J Med. 2013 Nov 21;369(21):1991-2000
Black persons have lower vitamin D levels, but most of this can be explained by lower levels of the binding protein, so the "free" vitamin D is similar across races. Nevertheless, there are many important ethnic differences, and black persons have higher bone density, lower fracture risk, and fewer vascular calcifications.
October 2013: ASMBR meeting highlights
The abstracts are available at this website. This is a list of the abstracts that caught my attention:
Douglas Bauer: Calcium intake in older men
Using data from 5967 men in the MrOS study, calcium supplements were vertified by review of pill bottles. Mortality followup was ten years. The mean age was 74 and dietary calcium intake 1142 mg/day. Amount of calcium intake was not associated with cardiovascular mortality. There was not difference between highest and lowest quartiles. Use of supplements was not associated with cardiovascular or total mortality.
Daniel Dedenkov: Incidence of vitamin D toxicity
20,308 serum 25-OH-vitamin D levels from 2002-2011 done at the Mayo Clinic were analyzed. The incidence of levels higher than 50 ng/dL increased from 10/100,000 in 2002 to 260/100,000 in 2011. This increase was seen mostly in persons older than 65. There was no relationship to the serum calcium levels.
Thomas Carpenter: A First-in-Human, Randomized, Double-Blind, Placebo-Controlled, Single- Dose Study of a Human Monoclonal Anti-FGF23 Antibody in X-linked Hypophosphatemia
This was a dose-escalation study in 28 adults. Single doses increased serum phosphate, TmP/GFR and 1,25 D. The peak effect with SC dose was 8-15 days with a duration of 29 days. No changes in calcium, PTH or urine calcium were seen. No serious side effects. This abstract was voted the most outstanding clinical abstract at the meeting and this new therapy could potentially be a better treatment for this genetic disease
Jonathan Adachi: Fracture Patterns with use of Selective Serotonin Receptor Inhibitors, Proton Pump Inhibitors and Glucocorticoids
In a large international observational study (GLOW) persons were mailed questionnaires about medications and followup questionnaires about fracture. 9347 subjects were never treated with these medicines or osteoporosis treatment. 2715 women were on PPIs, 5304 on GCs and 1149 on SSRIs at some point. SSRI use was the only therapy associated with a statistically significant increase in overall, clinical spine and non-hip-non-vertebral fractures. GCs were significantly associated with spine fractures. PPIs, while not statistically significant, were associated with NHNV fractures.
Ann Schwartz: Effects of thiazolidinedione use and discontinuation on fracture rates
In the ACCORD clinical trial of diabetes medications, the age of the 6,865 included participants was 62.4 (SD 6.6) years; mean BMI was 32.6 (SD 5.3) kg/m2; and mean duration of diabetes was 11.1 (SD 7.8) years. During mean follow-up of 4.8 (SD 1.5) years, 549 participants experienced at least one confirmed fracture. Those on TZD greater than 1 year had 2.18 times as many fractures as non-users. After discontinuation, the fracture risk decreased to half as many as in the current users. These results were seen in women but not men.
David Tarsa: Does Calcitonin cause cancer?
A meta-analysis of clinical trials did not find an association between calcitonin and cancer; the relative risk was 1.16 (0.95-1.6).
Serge Ferrari: Further Reduction in the Nonvertebral Fracture Rate Is Observed Following 3 Years of Denosumab Treatment
The randomized clinical trial lasted 3 years and enrolled 3902 subjects. Of these 2343 continued. Those on denosumab remained on this (open-label) and those who were on placebo switched to densoumab. Over the next 4 years the fracture rates were lower than during the first 3 years of treatment. They were 1.98%/yr during yrs 103 and 1.45%/yr during yrs 4-7.
Benjamin Leder: 2 Years of Combined Denosumab and Teriparatide in Postmenopausal Women with Osteoporosis
100 women with high fracture risk were randomly treated with teriparatide, denosumab, or both. The bone density at two years was highest in the combined group for the spine, hip, and radius. The P1NP increased with teriparatide and decreased with denosumab and combined treatment (but more with the densoumab than with the combination).
Deboral Sellmeyer: A randomized controlled trial of exercise to prevent bone loss and adverse cardiovascular changes in premenopausal women with breast cancer
206 women in this study of a 12 mo exercise program, resistance training and cardiovascular activities. Control group received monthly health newsletter. The BMD declined in both groups, no significant differences. However, among women who did not lose lean mass during study (N=100, 54 control, 46 ex) the exercise intervention was effective.
Studies about wnt-signalling and sclerostin:
Harry K. Genant: Effect of Romosozumab on Lumbar Spine and Hip Volumetric Bone Mineral Density as Assessed by Quantitative Computed Tomography
The increases at the spine and hip were greater with romosozumab than with teriparatide.
Tony Keaveny: Effects of Blosozumab on Estimated Spine and Hip Strength in Postmenopausal Women with Low Bone Mineral Density
Using finite element analysis from spine and hip QCT data from the phase-II dosing study, he showed the estimated spine and hip strength were better after a year of treatment.
Aaron James: Systemic Administration of NELL-1, a Wnt/beta-Catenin Regulator, Induces Bone Formation in Osteoporotic Mice via Integrin-beta1
Mice with haploinsuffieicncy for Nell-1 are normal until they are older Then they get osteoporosis. Normally NELL-1 expression decreases with aging. When they injected NELL-1 into mice with osteoporosis, the bones improved. BMD increased by 10%. There was an anabolic effect with increased Wnt signalling. Moreover, this required Intergrin and it was also anti-resorptive. I had never heard of NELL before, so it will be another compound to keep following
Aruna Kode: Leukemogenic Transformation of Hematopoietic Stem Cells by Constitutive Activation of Canonical Wnt signaling in Osteoblasts
She created transgenic mice that have active Wnt-signaling only in osteoblasts. They developed acute myeloid leukemia. Transplanted marrow from those mice caused AML in wild-type mice. Cultured together with human hematopopoietic stem cells increased proliferation of early myeloid cells. They then looked at patients with myelodysplasia and 38% had beta-catenin in the nucleus, but in normal patients it is near the cell membrane. This abstract was selected as the best basic abstract at the meeting and points to potential side effects of over-stimulating the wnt-signalling system with anti-sclerostin antibodies
Matthew Roforth: Estrogen Reduces Bone sost mRNA and Circulating Sclerostin Levels in Postmenopausal Women
This study in 20 normal postmenopausal women treated with estrogen for 3 wks and 20 untreated women included a needle biopsy of bone. Serum levels were 29% lower in estrogen-treated women. Bone sost mRNA levels were reduced by 48% with estrogen
Brendan Lee: WNT1 Mutations in Early-Onset Osteoporosis and Osteogenesis Imperfecta Identify a Key WNT Ligand Regulating Bone Mass
In families with very severe fractures and dominant inheritance, with normal collagen genes, the investigators performed genome-wide microsatellite scan and fine-mapping and identified a mutation in WNT1. The patients had low bone turnover on bone biopsies.
Janina Patsch: Assessment of osteovascular interactions by HR-pQCT: Links between lower leg arterial calcifications and renal osteodystrophy
This abstract showed that high-resolution QCT could measure vascular calcifications in the legs
Kenneth Poole: Precise localization of cortical defects associated with hip fractures
Using CT scans of the hip, a new technique of 3-D cortical mapping showed areas of weakened cortical bone mass. In 144 patients with an acute hip fracture, the type of fracture corresponded to the location of the weakness on the CT scan of the remaining hip. Those with trochanteric fractures had trochanteric cortical defects and those with intracapsular fractures had defects on the superior femoral neck.
Angela Cheung: Effect of Teriparatide on Healing of Incomplete Atypical Femur Fractures
22 patients with incomplete fractures due to bisphosphonates were treated with teriparatide for a year. She did not state if they had fractures lines on the radiographs. 3 of the patients later underwent surgical repair. 4 developed new lucency lines in the same femur as the original atypical fracture. In 12 the fractures and symptoms were unchanged, in 5 there was healing, and only 2 were healed in the follow-up X-rays.
Jorg Schilcher: Histology of Atypical Femoral Fractures
Bone biopsies were done at the time of surgical rodding in 8 patients. The findings were unusual: There was a meandering fracture gap, filled with amorphous necrotic material. Some areas looked like there was abrasion. Woven bone was seen in the defects. Farther away large areas of empty osteocyte lacunae were seen.
Weiwei Dai: Ecdysterone, a Main Component from Chinese Herb, Achyranthes Root, Prevents Glucocorticoid-induced Bone Loss by Preserving Osteogenesis and Osteocyte Autophagy
High dose steroid treatment decreases autophagy and increase apoptosis. They treated mice with placebo or prednisone then treated with ecdysterone. The steroids caused 30% decreased in bone volume and 50% lower mineralizing surface, but ecdysterone completely prevented these decreases and prevented the reduction in autophagic-related protein. I thought this was one of the most novel abstracts, and we may hear more about this compound in the future.
March 2013 Concerns about calcitonin
A scientific advisory committee voted (by a narrow margin) to restrict use of calcitonin due to a slight increased risk of cancer when results from all the calcitonin studies were combined. Noel Weiss, an epidemiologist from the University of Washington, was asked to put these findings into context and he stated that "the nature of the available data provide no more than a hint that an increase in risk might be present." Here are some of the presentations. Here is a link to background information prepared by FDA staff. The FDA will consider this issue later this year.
November 2012 New studies about estrogen
Schierbeck LL. Effect of hormone replacement therapy on cardiovascular events in recently postmenopausal women: randomized trial. BMJ 2012;345:e6409
This was a randomized, open label trial that lasted 10 years from 1990. The 1006 subjects were recently postmenopausal. The study was stopped early because the Women's Health Initiative results had suggested estrogen was harmful. Followup for another 6 years was done using registries in Denmark. The results showed a benefit from estrogen during the first ten years, with fewer cardiovascular events and no increase in cancer or stroke. During the followup there were still no increases in cancer or heart disease. The same study also showed a reduction in wrist fractures and a reduction in weight gain.
The initial findings of the KEEPS study were presented in October at the North American Menopause Society meetings. This 4 year study compared estrogen to placebo in women who were within 3 years after menopause. The results showed improvement in bone density, and no serious side effects. Unlike the Women's Health Initiative Study (which was done in older women) there was no increase in risk of heart attack or breast cancer. There were benefits to depression and hot flashes. There was a trend towards improvement in the coronary artery calcifications. I think this study supports using estrogen in women with low bone density at the time of menopause. The link to the study website is KEEPS study.
Read the section about estrogen for more information.
Low iron increases FGF23 secretion
Imel et al. Iron Modified Plasma FGF23 Differently in Autosomal Dominant Hypophosphatemic Rickets and Health Humans. J Clin Endocrinol Metab Nov 2011
Autosomal dominant rickets becomes worse with iron deficiency. The osteocytes in both normal people and those with a mutation in FGF23 will secrete more FGF23 when there is iron deficiency. However, in the normal people the FGF23 is degraded, whereas in those with the mutation the FGF23 levels increase and cause phosphate loss.
I have revised the page on Osteomalacia and Rickets. Also updates on the mechanisms of renal phosphate loss and more about NHERF mutations.
---
July 2012 Incidence of atypical femur fractures
Dell RM et al. Incidence of atypical nontraumatic diaphyseal fractures of the femur. J Bone Miner Res 2012.
Our paper was just published about the incidence of these fractures. We found 142 cases over 5 years at Kaiser in Southern California. In patients taking bisphosphonates for less than 2 years the incidence was 1.78 per 100,000/yr and after 8 years the rate climbed to 113 per 100,000/yr. Read more about these fractures.
---
June 2012 Calcium in the news
Recently there have been several reports that have re-analyzed previous studies and come to somewhat contradictory recommendations about calcium and vitamin D. One is from the the U.S. Preventive Services Task Force and another from the American College of Physicians Journal Club (to be published June 19), both based on an analysis by Chung. The study found only a modest benefit on fractures with combinations of calcium and vitamin D. The USPSTF now recommends against taking supplements because they don't prevent enough fractures. Meanwhile the Institute of Medicine recommends that women should have 1200mg of calcium a day for best bone health. There are also some studies suggesting increased calcifications in the blood vessels with too much supplementation.
I have read these various reports and think that for now the best advice is to try to get at least 500mg of calcium from the diet in the form of dairy products such as yogurt, cheese, and milk. If possible, 3 servings of dairy and some green calcium-containing vegetables will provide all the calcium that is needed. If that is too difficult, then 500mg of supplement should be safe and is probably better than an inadequate intake.
It is important to remember that these new reports are largely still based on the Women's Health Initiative, which did not show a benefit for fracture prevention. However, the women were already taking an average of 1100mg of calcium a day, so an extra 1,000 mg did not help. The bones need an adequate amount of calcium, but once that is achieved, extra will not go into the bones. More information about calcium contents and calcium is on the calcium page.
---
Click to go to the page of