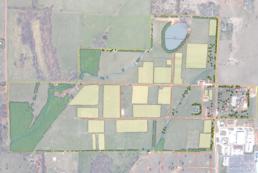 Project 1: Final Geodatabase extracted through the 2005 aerial imagery flown for the project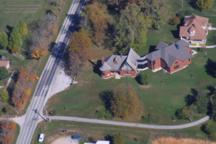 Project 1: Example of oblique imagery flown for the project
Project 2: LULC Change in the Tumbling Creek
MSU-MTG geodatabase is over 13GB and is avaialbe by e-mailing Dr. Moskal
In 2005 two class projects were undertaken:
The Missouri State Univeristy-Mountain Grove Campus Mapping Project – based on the success of the 2004 Springfield Campus Mapping Project and the CNAS Centennial Project, students will be developing an interactive map for the Missouri State Univeristy Mountain Grove Campus.
Mountain Grove is located in the Ozark Plateau region of South-central Missouri . The land surrounding Mountain Grove is covered by a mixture of farmland and forested areas. The campus at Mountain Grove, is a 190 acre campus located on a reasonably flat piece of land. The image below shows the geodatabase created for the campus with the true color aerial photograph in the background.
One of the key remotely sensed imagery used in the project was provided Henrietta Christensen, who flew over the Mt. Grove campus on March 28th, 2005 and acquired a true color digital imagery for the students to work with.

The geodatabase created by the team contains aerial photography form 1960 to present, shape files for roads, campus buildings and locations of trees, polygon files for various orchards and additional datasets. It can be obtained by clicking below (note the file is large and might require hours to download using a dial-up modem; the file can be viewed in ESRI ArcMap Version 9).
The Tumbling Creek Cave Historic Land Use/Land Cover Change Mapping Project – the project is directly related to the iCAVE (interactive Cave Animation Visualization and Exploration) Project sponsored by the James River Basin Partnership.

The main goal for the 2005 GRY 552 class project was to map land use/ land cover change in the recharge region of the Tumbilng Creek cave. To do so, the following objectives were set and met by the team:

Obtain all available historical aerial photography for the Tumbling Creek cave recharge area
Georectifiy the historical aerial photography to a current (2003) digital orthophoto quad (DOQ)
Use heads up digitizing techniques to map land use/ land cover from the historical aerial photography

Below is is the land use/ land cover animated change map for the Tumbling Creek cave recharge area (cave is located in the lower right hand corner of the map) based on aerial photography from 1961, 1967, 1995, 2002 and 2003. Map colors: forest (dark green) .