Policy Options
Strategies for Adaptation
Retreat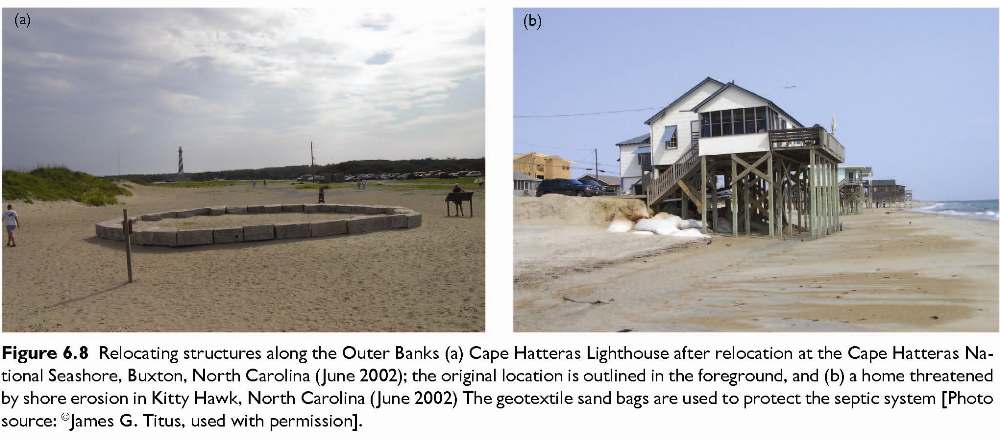 Retreat, or relocation, is an adaptation strategy that manages expectations of future sea-level rise. This option typically involves long-term planning with expectations of future sea-level rise to avoid the costs of investing in protective shoreline solutions. Important facilitators of this option include regulatory and legal mechanisms by which to incentivize citizens, businesses, and government alike to consider a managed retreat. These may include buyout programs, conservation easements, acquisition programs, or flood hazard regulations.
More information can be found
here
. This is also the source of Figure 6.8 above.
Protection
Protection strategies are typically referred to as "hard" engineering solutions because they can involve building capital-intensive, semi-permanent structures. Protection also includes semi-permanent options such as berms (see image below to the right) that use materials from the earth to build defensive structures.
Listed below are four options that the City of Olympia has considered as part of their
Engineered Response to Sea Level Rise
Technical Report (2011)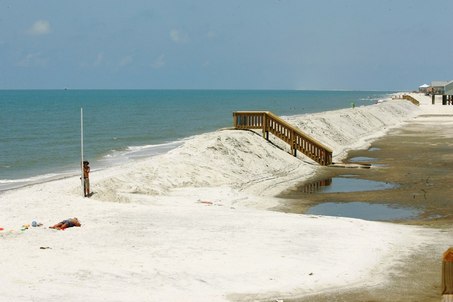 Vegetated Earthen Berm
: This berm type involves creating a sloped barrier of existing earth between the coastline and the nearest level surface, built to any desired height.
Armored Slope Earthen Berm
: This berm is similar, but with an armored layer on the slope facing the coastline made from other materials such as concrete.
Sheet Pile
: These are piles of various materials including timber, steel, or concrete built to resist lateral pressures from the earth or incoming water.
Other Protective Options
Seawalls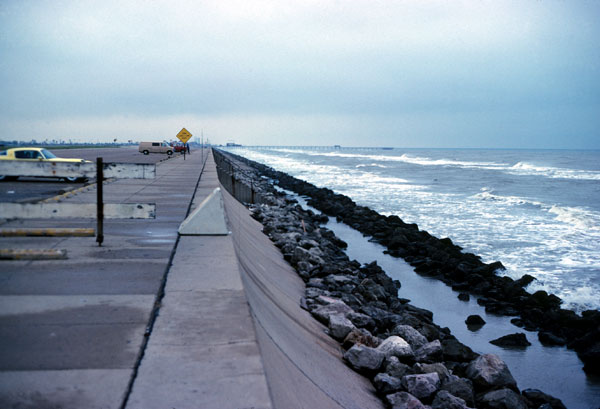 Seawalls are typically used to protect beaches from tidal waves and control beach erosion. They can be made from a variety of materials including wood pilings, stacking rocks to form seawall, or walls built of concrete. Seawalls are considered a hard engineering solution due to their typically permanent long term structure.
Advantages
Strong increase in coastal defense
Can be engineered to incorporate multiple uses such as sightseeing or recreation space on top of it
One of the longest lasting compared to other engineering options, even in increasingly extreme environments
Effectively control soil erosion and prevent the loss of life and property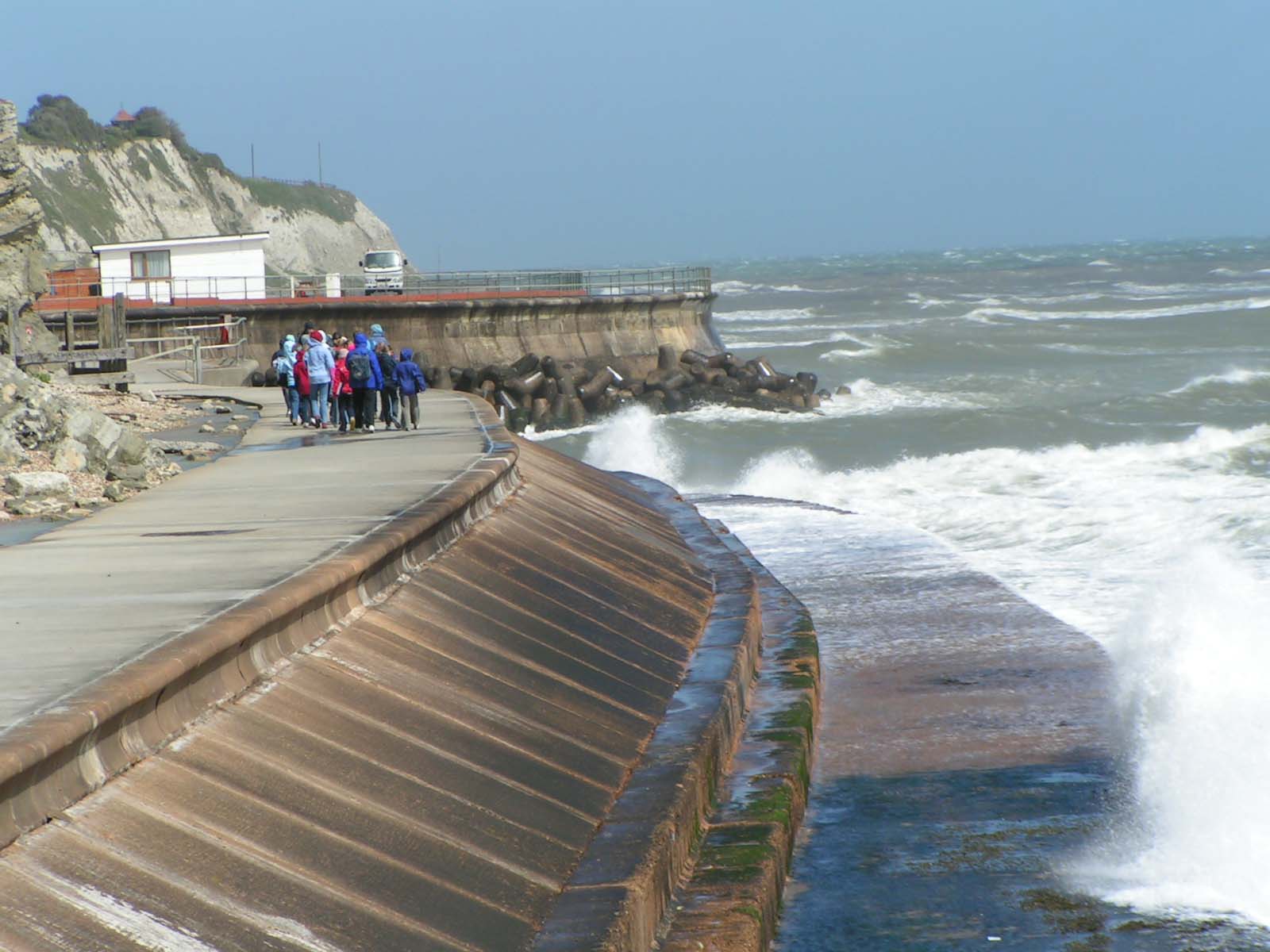 Disadvantages
High capital costs
Can change shoreline experience for citizens and business owners with obstructions of view
Potential to destroy natural formations near the shoreline such as intertidal beaches and wetlands
Lifespan can be anywhere from 30 to 50 years depending on the materials used to build it and the intensity of the environment
(Picture from
climatetechwiki.org
)
(
Return to top
)
Revetments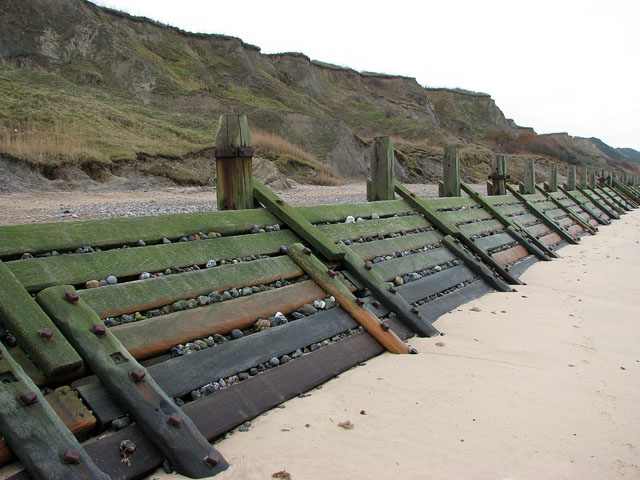 Revetments are fortifying structures designed to absorb energy of incoming water.They are typically constructed as sloped areas of loose piled rocks, wooden structures, or piles of concrete shapes.
(Picture by
Evelyn Simak)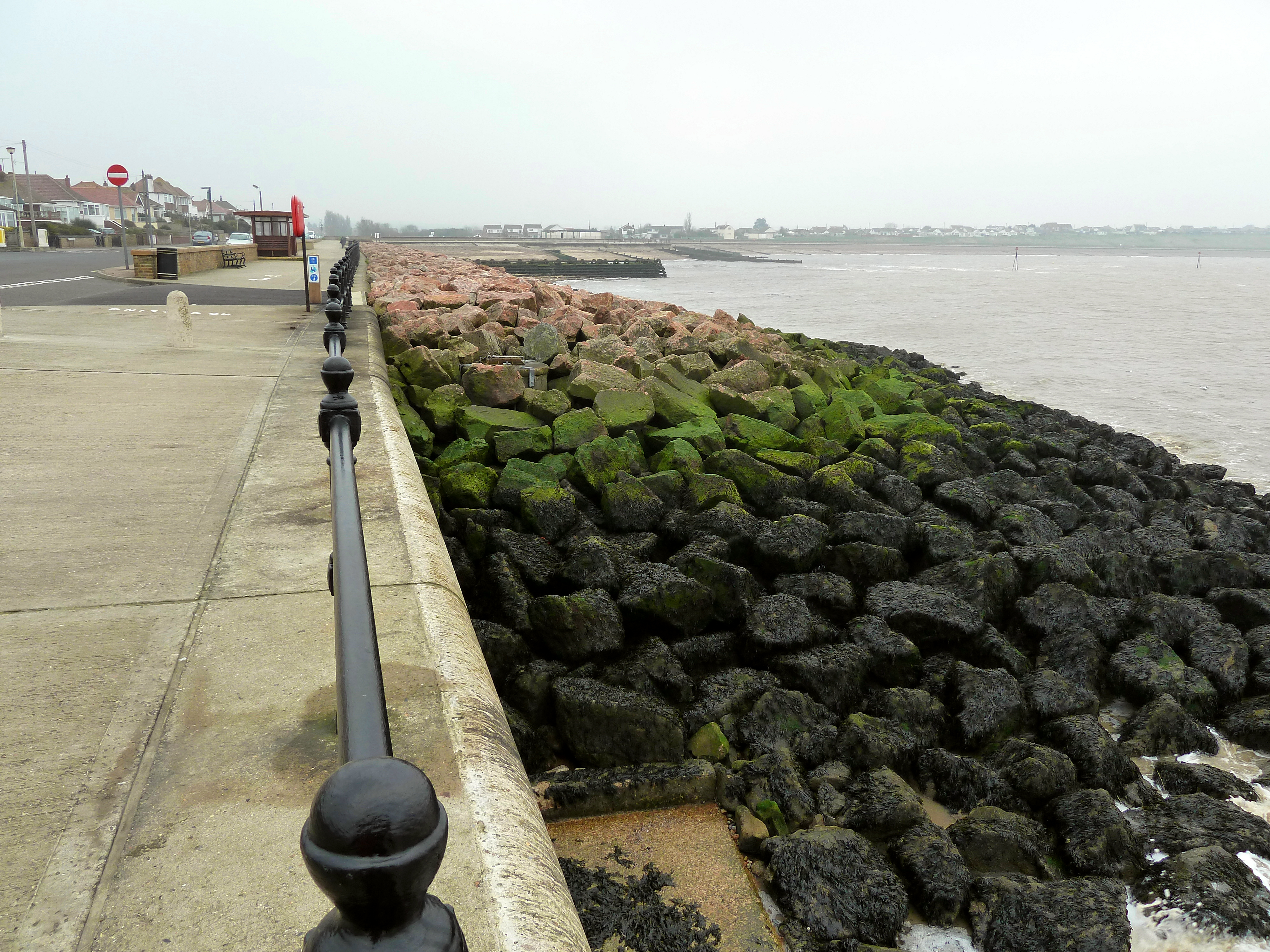 Advantages
Strong,low-cost solutions for coastal erosion defense
Protection against flooding, heavy rainfall, and continual impacts of water at high forces

Disadvantages
Revetments are a hard engineering solution with a lifespan of 30 - 50 years
Their semi-permanent nature alter the landscape of the shoreline with the potential to appear aesthetically unappealing to many
Storm Surge Barriers, Dams, Sluices, and Ship Locks
Surge barriers are designed to prevent storm surges, seasonal tides and flooding from affecting a protected area behind the barrier. They are often designed in conjunction with with larger flood protection systems including dams, sluices, and shipping locks. Surge barriers allow water to flow freely between two areas with the added capability of being able to close and shut off the flow of water in the event of a storm surge, higher tides, or flooding having a negative impact on the area inland from the barrier.
Oosterscheldekering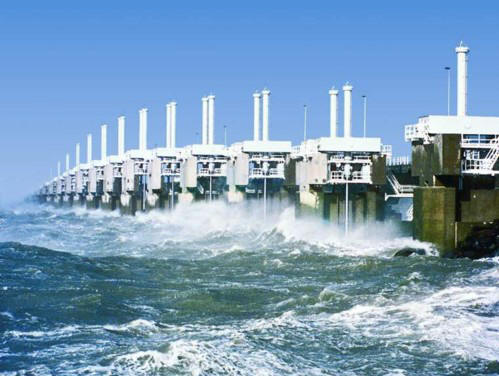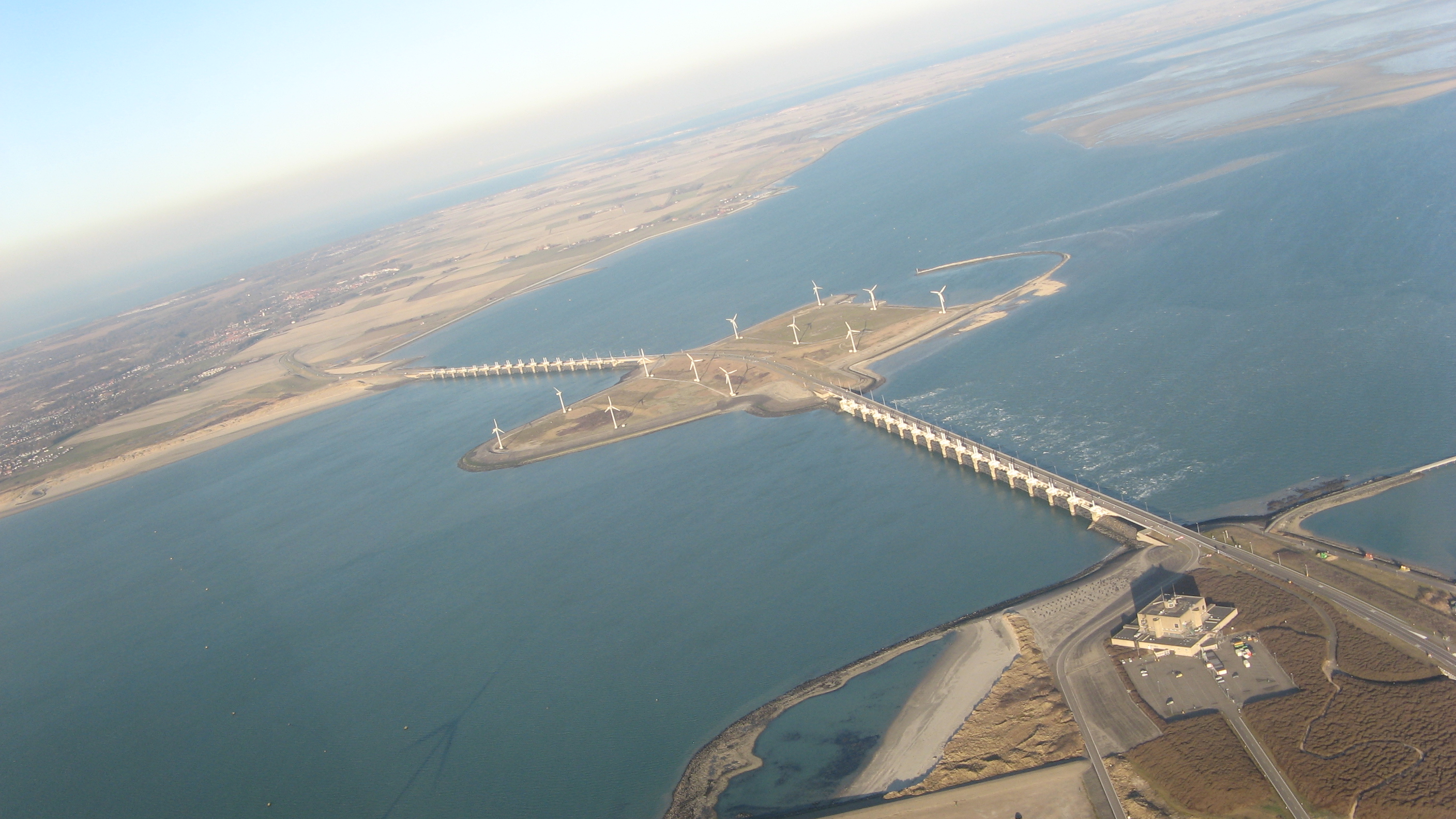 (Images: Bryan Tong Min (left) and Bus-Idee (right))


The Oosterscheldekering is a storm surge barrier in the Netherlands that was initially built as a dam. Public opinion drove the addition of large sluices placed throughout the barrier that can be controlled to lift or shut depending on the severity of incoming sea-level rise threats.It is the world's largest movable flood barrier.


Thames Barrier

(Picture by David Iliff.
License: CC-BY-SA 3.0)
The Thames Barrier in the UK, the world's second largest movable flood barrier, was primarily designed to prevent flooding and storm surges from impacting the vulnerable floodplains of the boroughs of Greater London. This barrier has rotating cylindrical gates that can be raised or lowered in the event of sea-level rise threats from the North Sea. This barrier incorporates some flood gates that are permanent in nature and some that can be navigated by ships when open.

Maeslantkering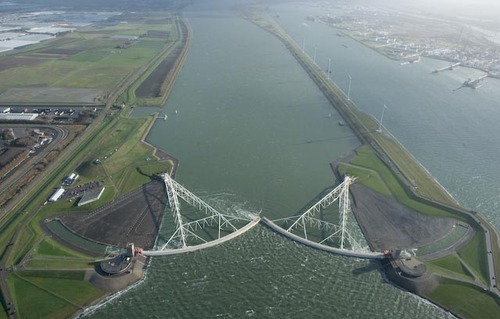 The Maeslantkering is another storm surge barrier in the Netherlands with a unique design that allows it to swing closed if storm surges are imminent or swing open to allow water and ships to pass.
(Picture by www.aerolin.nl)

Contact: peter (at) stat.washington.edu
---