January 23rd, Monday
Blog entry by Xyrone Ocampo
The morning started early here on the mighty Thompson (exactly at ). With the fresh smell of the previous evening's Seahawk victory lingering within the watertight compartments, the biology crew of Tamra, Tasha, Ben, AJ, and Wendy tenaciously warded off another sleepless night in order to collect and analyze more data (00-04 watchstanders, pers. comm.). Jaqui was busy throughout the morning scraping up and analyzing some mud from the bottom of the deep ocean. She had been awake for over 24 hours straight before finally expiring after her last coring station of the morning around 0800. With the intentions of transiting from just off the west coast to the east coast of Isabela, professors Mark Holmes and Seelye Martin took best advantage of mapping the coast and tracing the Equatorial Undercurrent signature, respectively. Having crossed the equator sans the ceremonial rite of passage of becoming a shellback, Jaqui must have irked King Neptune himself, as she ended up spending the rest of the evening scooping up and processing more spade box cores. Joni was hard at work in a different lab on the ship analyzing her phosphate samples, staying away from the limelight (aka the Main Lab). A few of us were communicating with the Ecuadorian scientists in Spanglish. The rest of the crew was either sleeping, working on their project, getting rope bracelets made by Brain, watching dolphins and sea turtles swim by or drawing on foam cups to send down to 2200 meters and seeing how much they shrink (to make it really fun we made a game out of it, by drawing a line and whoever gets closest to an inch after the cup shrinks, Katy won with Jaqui just close behind). Really. Until tomorrow, Go Seahawks!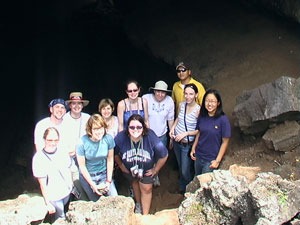 The entire group of us on the first day, coming out of the lava tube. If we only knew then what we know now!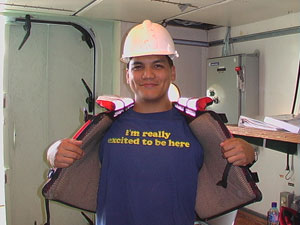 I, Xyrone, am happy to be here, Honestly... Things couldn't be better.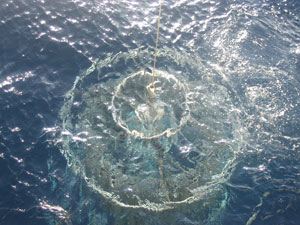 CTD going overboard.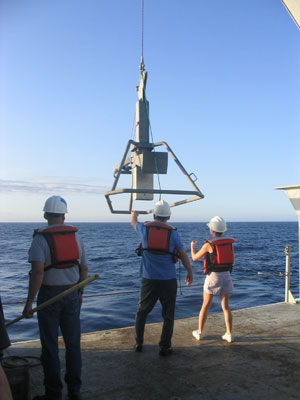 Jaqui Neibauer works the box core.