I've always had a political and economic emphasis when it comes to how I analyze course material. With that being said, I knew that addressing trade for my group project would be useful in examining how political economy relates to food and the environment. As a result, I was excited to find a group of peers with a similar sort of mindset as me, but also with different perspectives of the topic itself. Initially, we had planned to host a workshop on trade with the Community Alliance for Global Justice (CAGJ) and a movie, but our final path led us to just showing the movie, We Feed the World, that is directed by Erwin Wagenhofer.
Even with the obstacles in scheduling meeting times, reserving a room, and getting people to attend the event, I think we would all agree that the project was a success. We were able to table the event at the HUB and generated a good amount of interest for our topic and the movie. Even though many people would try to avoid us while we were handing out fliers, individuals that did engage with us asked a lot about how trade relates to different food and environmental issues (and interestingly enough, I was interviewed by Kiro 7 about the Seattle head tax while we were tabling).
During the movie showing, we had a turnout of about 15 people and held a discussion at the end about what they gained from watching it. It was rewarding to hear that the attendees had not only enjoyed the movie, but also learned about how topics like waste, commercial fishing, industrialized food, poverty, genetically engineered seeds, monocropping, and meat production were all related to globalized trade. What I found interesting about this was that people would mention aspects of the movie that I didn't notice. For example, one of my group members pointed out how the movie starts at the bottom of food production with small farmers and fisherman and moves its way up to the top with the CEO of Nestle. This reminded me of our lecture on "Globalization of the World Food Economy." More specifically, it made me think about the graph pictured below and how the "real winners" of food trade and production are brand-name manufacturers (Litfin, 4/12/18).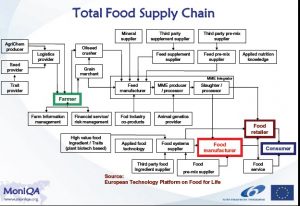 Just as we set out to do in this class, We Feed the World captured contemporary food trade holistically and revealed many hidden consequences that linger within it. Working on this project has taught me not only how hard collective action can be, but also how rewarding it can be in teaching the community, even if only for a few minutes, about how integrated our world food system is.