For our final project, my group chose to focus on soil. Initially, we had planned to organize an after-school event for local elementary students. Quickly we discovered that the process to clear such an event with the district would be lengthy and likely too bureaucratically complex for us to succeed in such a short period of time. Furthermore, the soils professor who we had hoped to speak at our event had a scheduling conflict for the day our event was planned. In the end, as a team we decided to scale back our expectations and come up with a plan that was reasonable, while impactful. Our group worked together remarkably well. Each peer brought enthusiasm, knowledge, and accountability to the organizational dynamic, which made planning the event not only relatively easy, but enjoyable as an experience. Having worked in groups where individuals were not always responsible, it was refreshing to see how easy collective action can be when participants approach organization with compassion, and passion.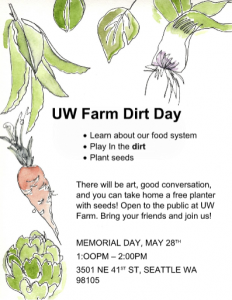 Credit: Claire Kasinadhuni
In the end we scheduled a panel discussion at the University of Washington farm. One of our group members, Claire, made a fantastic poster which we distributed across campus, and another member, Yuki, made a Facebook event advertising the date. In the end, while not many people showed up given that it was Memorial Day, we were pleased to see how open and communicative our guests were. Everyone was eager to share their ideas, and learn about the impact of farming practices on soil. Each member of our group chose a different topic to present. My subject was modern farming as an extension of violent contemporary social paradigms, looking at soil additives as well as decreasing nutrient density in food to illustrate the material impact of our economic system on the planet. All the discussions stimulated lively conversation that encapsulated politics, agriculture, culture, environmentalism, and philosophy. Following our discussions we had our guests plan their perfect farm and explain it to the rest of the group, and led our guests in the planting of sugar snap peas. One guest later texted a group member saying how much he'd appreciated the opportunity to engage in conversation with others in the casual, safe environment we'd been privileged to host.
The goal of our project was to engage with the public on an issue often pushed to the periphery of the collective social conscience, in a space that would render the issues immediate and material: the UW farm. We understood as a group that a consequence of our social and economic structures includes the dismissal of food and food systems in the name of convenience, efficiency, and profit. In this sense, hosting an open, informative discussion of the nature and consequences of our current food paradigm radically upsets the reliance of industrial agriculture on its perception as normative—with intentionality we moved to create a non-hierarchical space where individuals could focus their understandings of food in the context of community. Each of our discussions had global implications, as well. My topic focused on capitalism and Enlightenment ideals that have largely produced and justified our current foodscape. Other topics included: runoff/erosion and fisheries health, soybean commodity chains and globalization, and sustainable agricultural practices.