Over the course of our Action Project, I learned many new skills and had experiences that enriched my learning and outlook on the topic of food insecurity. Each group member was tasked with contacting local restaurants and grocery stores to inquire about excess food that could be donated to local shelters that would otherwise be thrown out. In retrospect, I see that I had somewhat of a leg up on my group members since I am an employee at the Roosevelt Square location of Whole Foods. A new skill that I learned from participating in this project was how to network myself within the store to efficiently locate foods that were readily available to donate. This was surprisingly difficult as most of the produce gets recycled within the store and Whole Foods already has donation programs to benefit the University District Food Bank and other local food banks.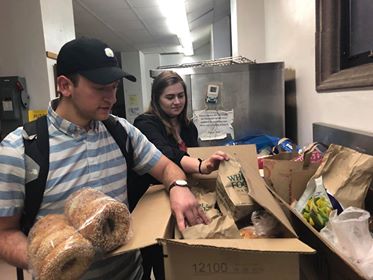 I definitely felt as if our project made a meaningful contribution to the larger community. Even though some of the difficulties that came with negotiating with the corporate side of restaurants hindered our efforts, we were still able to coordinate several food donation runs to Roots and POPY's Café. Just being able to see firsthand how appreciative the people who work at the shelters were as well as the smiles on the faces of the young adults who lived at the shelters when we brought the food donations was enough to know that we had a significant impact.
My biggest impression of knowledge that I gained from our Group Action Project would have to be the way I now view world politics. I used to view politics as a dry, bureaucratic process that I never really found interesting. That mindset changed into an outlook of vibrancy, one that expresses politics as an immense web of integrated systems much like those systems found in nature. As a biology major, this helped me learn and appreciate politics in earnest. I also used to believe that a single action by an individual would not have any real impact on the world, but after embarking on our group action projects, I can now fully appreciate how world change starts at the community level and gradually takes hold on the world stage.