This project was one of my first experiences planning an event for a large group of people. I learned just how many moving parts needed to be organized in order for everything to go according to plan. Unfortunately, after all of our planning we had to cancel the event because our venue pulled out. The big lesson we learned was to expect the unexpected. It did not even cross our minds that working electricity was a factor that could get in the way of us successfully pulling off the event.
My role in the action project was largely the advertising of the event. After learning the setlist I made posters and flyers with the bands that would be playing, as well as information on how people can learn more. I quickly realized how expensive it is to print color copies, so I pivoted to designing a Facebook event page instead. With the help of Anne, we posted artist profiles on the page to provide people more information on the artists they could expect to see.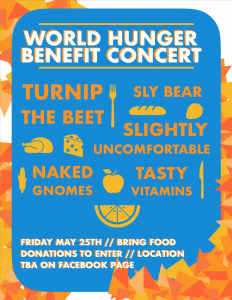 We designed our action project to raise awareness and gather monetary and food donations for two different organizations working to combat food insecurity. We decided that our monetary donations would be given to Oxfam. Oxfam is an internationally recognized organization with the goal of providing food for those most in need. In supporting Oxfam with our donations we would be supporting their missions internationally. We chose to donate the food we collected to the University District Food Bank because of their systemic thinking. In the articles and books we read about the health of food, like In Defense of Food by Michael Pollan, it was clearly expressed that canned, processed, and preservative filled foods are not good for human health. Sadly it is these exact foods that are typically found in food banks. However, at the University District Food Bank they encourage people to donate fresh produce alongside or instead of canned foods. They recognize that solely providing food is not enough, and that the people who receive food from the Food Bank should also experience a nutritious selection. I am very proud of the work we did for this project. Hopefully we will see the results of all our planning with a bigger and better event in the fall.