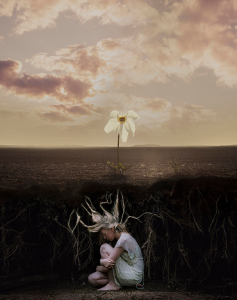 Kimmey, Katelin. Seed of a Soul. 2013. Photograph. Flickr.com8.15.2017
Seeds are resilient, when talking about gardening my brother once said, 'I always just plant seeds and somehow almost every seed comes up and it amazes me every time'.  Every year when little plants start to push their way through the dirt I remember his words.  However, a seed can do nothing without soil, and the quality of the soil is what determines the success of a seed.
Although we are resilient as humans, in order to thrive we need a certain environment. Just as different seeds need different things, we as people need different things based on our personality but our success is heavily influenced by our environment.
We have learned that soil is a living system. That means that soil is more than dirt, it is the interaction of microorganisms, nutrients, worms, water and organic matter. We also know that many of the industrial food processes include using fossil fuels as supplementary nutrients and that as the seeds are taken away in the form of food without any waste or organic material going back into the soil and natural cycle is broken.
It is important that we view our own environment in the same light. What do we need to reach our goals on an individual level but also on a collective level? Certainly we need love and acceptance, we need education, and we need food and water. And we need to gain all of these things is away that is not stripping our environment of these necessities and leaving it void for future generations.