I have written a few contemplated reflections before, but this class's focus on fossil fuel contemplation has really caught my attention.
There are many talks right now about substituting fossil fuel with electricity as vehicles' main source of energy. The rise of electric cars, especially the Tesla models, is an example. Although electric energy is usually viewed as a clean source of energy, the benefits of this energy is not the same everywhere. In fact, it could prove to be more destructive than fossil fuel in developing countries. People in developing countries tend to destroy their ecosystem by producing electricity. Since many of these countries could not access clean and eco-friendly ways to produce electricity, they tend to produce energy via hydropower dams. These dams could destroy the livelihood of many people who depends on the water resources from the rivers.
I was born in the Southern part of Vietnam, where rivers are central to life. The Mekong-the grandest river of all, stems from China and flows through Myanmar, Laos, Thailand, Cambodia and Vietnam.

The Mekong river is more than just a river, it is a source of life. It provides people fishes to eat, freshwater to drink, fertile silt and sedimentation to cultivate and many other essential functions for agricultural production. However, China hadalredy built six hydropower dams along the river, and at least 14 more dams will be complete in 10 more years. One of these dams, the Lancang dam, in the Upper Mekong region has adversely impacted the Lower Mekong regions.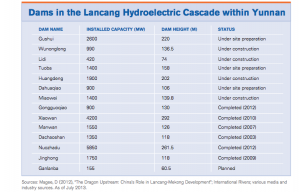 According to International River, the Lancang dam is threatening Southeast Asia's food security by blocking fish immigration, reducing natural sedimentation deposit, and creating erosions. People who live in the Lower Mekong delta are facing great threat from these dams, particularly the indigenous communities along the river. Importantly, competition for scarce water sources create tension on international scale.