Interactive learning is without a doubt integral to the ability of a student to be pro-active, not only in their own learning, but in relating it to their life more broadly. It is easy to see that this is the goal of the contemplative practices undertaken in class.
Especially in a course that focuses on the human impact on, both through denigrating and through protecting, the environment, the goal of such practices can be appreciated. What has already been elucidated throughout the last six weeks is the ease with which we can forget that our lived environment is not isolated to us but connected to a much larger system.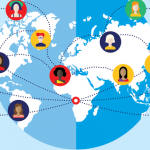 These contemplative practices, however, I have found did not induce as much of an introspective response as some of the videos shown in class. Specifically, the videos of how what may be a mundane activity or food to us, are implicated in very different ways in the lived experiences of others. The personalisation of food beyond the plate-to-mouth experience that is common for so many of us through reflective learning has enhanced the poignancy of many of this course's topics and themes. The video we watched about the process from cacao to chocolate, and the lives of those who harvested the cacao, contextualised the modern food system experienced by myself in a very eye-opening and new way. The contemplative practice that followed, engaging the class in eating and reflecting on the cacao nib and the piece of chocolate was a welcome addition. However, it was the video itself that allowed for this practice to be useful in a real way.